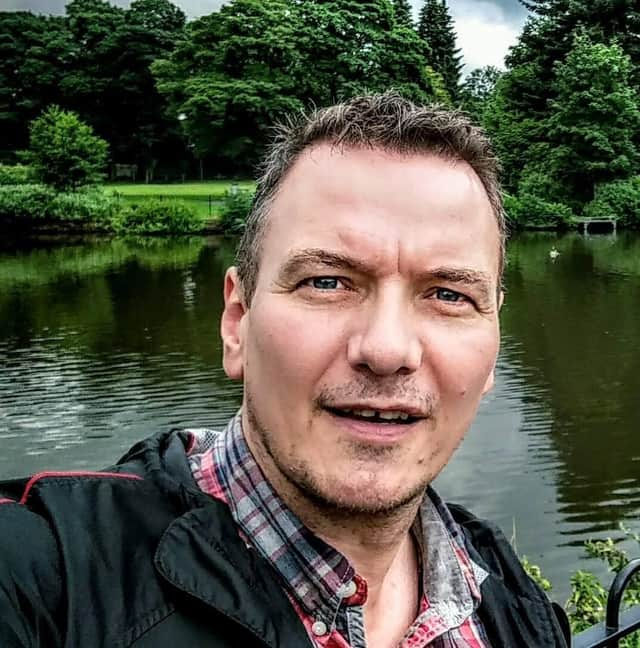 Porl Cooper Harrogate Theatres Associate Producer.
Porl is Harrogate Theatre's associate producer.
His role is to give a platform for new work and the development of emerging companies.
This can be anything from assistance with funding applications, feeding back on newly created shows, advocating for new companies, bringing creative practitioners together or commissioning.
Porl is freelance and works for several other festivals and venues throughout the UK, therefore he has a very good perspective as to the current state of our industry as we are thinking about the relaxation of restrictions.
He assures me that the difficulties Harrogate Theatre has faced over the past year have universally impacted throughout the country.
I asked Porl... what have been the challenges over the past 15 months for his role?
"It has been a constant stream of cancel and reschedule.
"It's also been frustrating to see the battles for limited funding streams and the lack of opportunities for freelancers.
"The theatre-makers and companies I work with operate at the less commercial end of the industry, and usually on the small to mid-scale.
"They don't have producers or 'angels' to fall back on in times of difficulties.
"I've seen a lot of people simply give up their craft to take delivery jobs and other frontline work just to pay the bills."
Porl has been keen to forge some successes.
Despite having the doors closed for over a year, Harrogate Theatre has employed creatives to deliver online learning workshops, we've commissioned companies to create new digital work and commissioned visual artists, as well as staging live performances against the odds last autumn.
What's coming up in the near future subject to the green light from government?
We've exercised caution with our offsite Raise the Roof summer season.
"Everything has been planned socially distanced with an option to increase capacities if we were able to, so I'm pleased that our June and July events will still go ahead unaffected by last week's decisions.
Next up this month we have two shows rescheduled from 2020 - Phoebe Douthwaite's powerful Finding Folk at the library and Mark Farrelly's The Silence of Snow at St Wilfrid's Church, which tells of writer Patrick Hamilton's troubled life.
Mark is the brilliant performer behind the sell-out Quentin Crisp piece Naked Hope.
For July Dan Bye and Boff Whalley present These Hills Are Ours at St Wilfrid's, which examines land ownership and our relationship between city and country.
Then we are at Coldbath Brewery where amazing wordsmith Luke Wright presents The Ballad Seller.
"We'd love to see as many of you along supporting at this really important time."
Porl is always on the lookout for more offsite partners.
We've a growing portfolio of step free partner venues, and it's great to be able to make the Studio programme even more accessible to those who find our Victorian building a challenge.
So, a huge thank you to The Library, St Wilfrid's, the Odeon cinema, Hales Bar, The Pump Room and Coldbath Brewery for their assistance in getting our work out to an even larger audience."
Please do get in touch if you think you have similar spaces for any of our events.