OPINION: Sustainable development is good but it means different things to different people - Andrew Jones MP
Sustainable development is a good thing. I am sure everyone agrees. During the process of agreeing the local plan and the subsequent development of sites contained in it, it has become clear from those who have contacted me that while everyone agrees it is desirable, sustainability means very different things to different people.
Thursday, 17th June 2021, 12:51 pm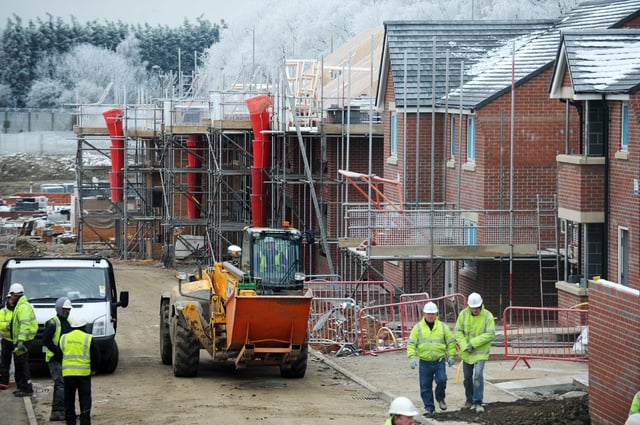 17th January 2013. At home in Cross Gates. Bellway Homes Ltd development The Limes, Manston Lane, Cross Gates. Home building construction workers on site.
For instance, to many the development of a cycleway on Otley Road is sustainable as it encourages and facilitates alternative modes of travel to the car. To others the fact that a small number of mature trees will be lost (even though they are to be replaced with new trees elsewhere) makes this unsustainable.
The Low Emission Zone on Beech Grove is to some a sustainable move making it easier and safer for pedestrians and cyclists and improving local air quality. To others it is unsustainable because it means they have a longer journey in their car to get into town.
The list of contradictions continues – allow grass on large parts of the Stray to go unmown to foster biodiversity or cut it so it can be used for healthy recreation and it looks nicer to some?
Bus dedicated lanes on Leeds Road a good thing because it might get people using more sustainable public transport or will it just mean longer queues for those who use their cars meaning more emissions from stationary traffic?
When it comes to housing development the picture is altogether more polarised. Most people think affordable housing is good. It allows young people to get on the property ladder and if, in the right place, allows them to live near their family, schools and support networks.
In 11 years as an MP many people have approached me asking for more affordable housing. They ask how their children or grandchildren will ever get a place of their own or want help for people on the housing waiting list. Naturally, I have not been approached by people volunteering 'the right place' for that housing is next to them.
People working in Harrogate – often in the less well-paid hospitality and retail sectors - who can't afford to live here believe it is unsustainable to drive in every day from Leeds. We all see the queues on Leeds Road and Wetherby Road so we know this to be the case. They want more affordable housing locally so that they don't have to commute and add to the pollution caused by cars. Their argument is that development of affordable housing in our district where they could live closer to where they work is more sustainable than the daily commute.
It is difficult to see how many of these personal views on sustainability can be reconciled. But I do know that we need to make greater efforts to do so. While we want safer cycling and pedestrian facilities but want the roads for our cars too; while we say we want meadow grass for pollinators but then complain long grass looks unsightly; while we say we want our children and grandchildren to be able to afford to live locally but campaign against more housing, the fundamental problems of sustainability remain unaddressed.
So I urge participants in discussions about planning applications, road schemes, carbon reduction, biodiversity to really listen to what one another say while being guided by the facts and the professionals. We should strain to hear the voices of those who do not shout loudest, who don't sign petitions, who don't write to the local paper, who haven't set up a Facebook page, who don't tweet without end as well as those who do.
We may never get to a position where we agree about how best to embed sustainability in the development of our area. But we may get to a position of respect for an alternative point of view and an understanding that, in the end, someone has to take a decision. And unless someone does then our ambitions for a sustainable district can never be met.