OPINION: Success or failure of G7 efforts will impact on wellbeing of people in North Yorkshire - The Dean of Ripon
Leaders of the G7, some of the most powerful and wealthy nations on earth, have met by the seaside in Cornwall. When the Queen asked them if they were enjoying themselves, they assured her they were. She, of course, stole the show.
Thursday, 17th June 2021, 12:47 pm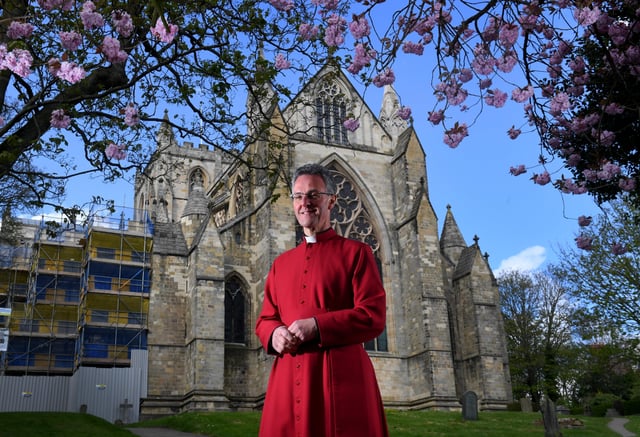 The Dean of Ripon John Dobson pictured at Ripon Cathedral..30th April 2021..Picture by Simon Hulme
We can only hope that their efforts and aspirations will make a positive difference for all countries. The promise to provide a billion coronavirus vaccines might be regarded as a modest first step towards the total 11 billion needed, but it is to be welcomed with gratitude. The agreements to progress with national economic policies which will help to stimulate the global economy is also to be welcomed. So too are commitments to act boldly for the benefit of the environment.
None of this to be dismissed as distant and irrelevant. Its success or failure will impact on the wellbeing of people in North Yorkshire Harrogate borough and the small and ancient city of Ripon. As I said in the cathedral on Sunday morning, we must pray for them and for their efforts.
Leaders speaking on or just off the shore reminded me of Jesus – a very different kind of leader. On one occasion, on the shore, the crowd that had come out to hear his teaching was so large that he had to get into a humble fishing boat and teach them from there.
Prime Minster Johnson and President Biden had the aircraft carrier HMS Prince of Wales behind them as they signed a new Atlantic Charter, evoking thoughts of the historic meeting of their famous wartime predecessors in the summer of 1941. That 1941 declaration by Churchill and Roosevelt cemented the bond between the UK and USA and laid the foundations for a new world order after 1945. We might think Jesus could hardly compete in the world today, but that would be to miss the point.
When Jesus got into his boat, he too was looking for a better world – in fact, nothing less than God's kingdom (heaven) upon earth. His whole life, his miracles and teaching, his self-sacrificing acts of love and redemption were all signs that this kingdom was indeed breaking into the life of the world. He was making a difference.
On one occasion, John the Baptist has sent his followers to Jesus, to find out if the Messiah really had arrived. Was this new small-time leader the saviour for whom the world was waiting? Jesus sent them back with a clear message,
"Go and tell John what you have seen and heard: the blind receive their sight, the lame walk, the lepers are cleansed, the deaf hear, the dead are raised, the poor have good news brought to them. And blessed is anyone who takes no offence at me.'
This is confident leadership, providing evidence that it is making a difference. This is a vision of what the world would look like if God were running the show. And more than that, Jesus shows us that God's kingdom comes by small imperceptible acts, spreading and growing. The kingdom is like a mustard seed, he taught from the boat; though the tiniest of all seeds, 'it grows up and becomes the greatest of all shrubs.'
The forces that sustain life on earth are visible in each tiny seed. The message is clear, each one of us can make a positive difference, simply by how we lead our lives day by day. How we are with neighbours and friends, how we do our work, or volunteer, or support those in need - this is what changes the world.
As a person who has tried to be a faithful Christian disciple all my life, I am bound to say that I think the world is a better place when people, by faith in Christ, attempt to live by his values and example, with the help of his Spirit. But I am also bound to say, that I do believe the Holy Spirit can work through every child of God, whether a person of faith or not. When anyone looks out for the good of others, not least the weak, poor and marginal, then the world becomes a bit more like heaven than otherwise it would be.