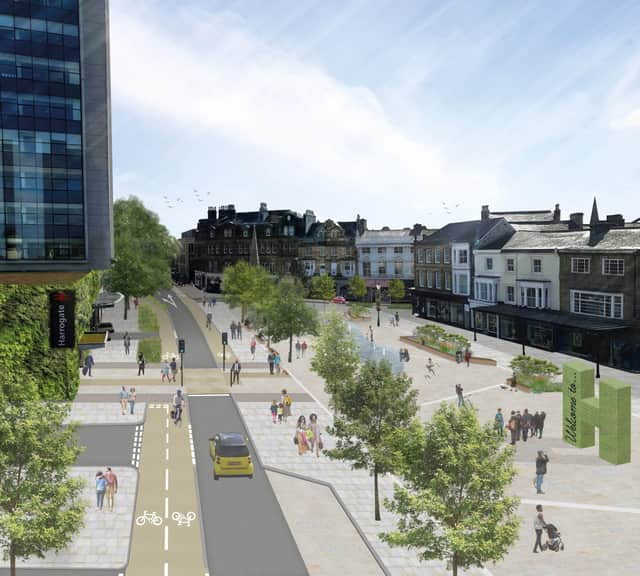 An impression of Station Parade reduced to one lane.
A decision on whether to progress four cycling schemes, which received provisional funding under the Government's Active Travel Fund, will be taken on Friday, May 21 following two rounds of public consultation.
In a report to the Business and Environmental Services Director and to me, highways officers are recommending that three of the four schemes be taken forward for further design work.
Two are located in Harrogate and Knaresborough, namely Victoria Avenue between West Park and Station Parade, and the A59 uphill from Knaresborough towards Starbeck, whilst the third is in Whitby. All three were generally well supported by the public.
The report recommends that the fourth scheme along Oatlands Drive should not proceed since key parts of this proposal met with determined opposition from local residents at both stages of the public engagement. The controversial elements of the scheme were, in the first instance, the one-way plan for Oatlands Drive, and, in the second, the inclusion of one-way filters at the junctions with St Winifred's Road and St Hilda's Road.
Both measures were intended to restrict the movement of cars and other vehicles in favour of cyclists, to create more road space for sustainable travel, generally to improve safety for all users of Oatlands Drive, and to help provide a suitable travel link from the Showground, Hornbeam Park and the secondary schools into the town centre. However, there was widespread opposition, with respondents unhappy about having to drive further to access Oatlands Drive and the town centre.
Since a condition of any scheme given money from the Active Travel Fund is support on the part of local residents, I expect that the recommendation to withdraw the Oatlands Drive one will be approved.
The work done so far will not be wasted since it will form part of a feasibility study into travel improvements planned for later this year for the wider South Harrogate area, and comments received up until now will be taken into account.
Double yellow lines on the east side of Oatlands Drive were a popular element of the package of proposals because these would keep the cycle lane free from parked vehicles. However, restricting parking here could lead to more cars trying to park on the Saints estate, where there are already parking problems for residents. For that reason, this proposal will be carefully looked at as part of the wider feasibility study.
Transforming Cities Fund:
A report will come to NYCC's Executive Committee next week seeking approval to undertake further design work for the three Gateway schemes in Harrogate, Selby and Skipton for which £31m worth of funding has been secured.
The report will confirm that the Harrogate Gateway proposals received by far the greatest number of survey responses (1101, compared to 234 for Selby and 193 for Skipton). Key elements include reallocating road space on Station Parade to pedestrians and cyclists, introducing one-way traffic on Station Parade north of the bus station, closing part or all of James Street to cars and other vehicles, improvements to Station Square and One Arch, and cycle lanes on East Parade.
The report recommends that design work on the one lane option for Station Parade and full pedestrianisation of James Street be undertaken, followed by further public consultation.
Both reports referred to in this article are available on the North Yorkshire County Council website.