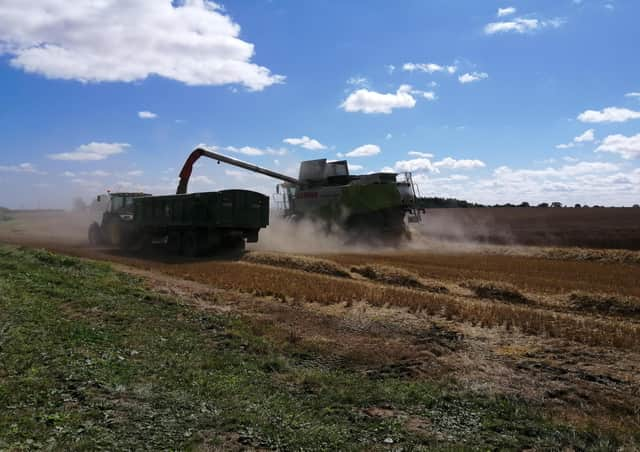 Many of our U3A activities have been severely curtailed and restarting them as we head towards the winter months is going to be something of a challenge, if not an impossibility. Friendships and contacts are beginning to find their own level, where once there were groups, maybe now there are just one or two people playing Scrabble together or small groups playing Bridge online. People are beginning to organise their own activities from within their own groups and I have the feeling that this will be our 'harvest'. New ways of interacting with each other are surfacing and new hobbies are being explored. Those of us who are fortunate enough to be able to go outdoors, find that walking and getting to know the area is one way of meeting people and joining up with friends, meeting for outdoor coffee and chats, maybe meeting for a picnic.
On a recent cycle ride and a picnic in the sunshine, on the bench outside Healaugh Church, we were provided with a rare insight into how changes made now will be carried into the future. The Vicar was telling us that he is running online services every Sunday, on Zoom, and he has been amazed and encouraged by his growing 'congregation'. He has found a host of new people willing to read and now the congregation can see everyone, it has enlivened the Services and created a wonderful online support network for housebound parishioners. When and if this crisis is over, he says he will continue to provide this service alongside other physical services.
Contact is so important and while many people have become accustomed to the quieter nature of their lives, using the telephone to keep in touch, writing letters and chatting with family on Skype and Zoom, other ways of keeping in touch are coming to the fore. Photographs are becoming so important and keeping them flowing freely between people has produced many budding photographers.
We have a long road ahead and we need to make plans for the next stage. No-one really knows how all this will work out over the next few months and politicians who tell us otherwise are kidding both themselves and us. We are a resourceful generation and we can be trusted to make our own decisions and to conduct our lives in a manner that suits our needs. Our priorities are our nearest and dearest and the next few weeks will test everyone to the limit with the reopening of schools.
Nature has not stopped being there and these last few months have thrown into sharp relief how important the natural world is to us all. The Birding Group may not be meeting just now, but it does not mean we cannot listen, look, and learn about the birds as they migrate to warmer climes. The Softie and Medium Cycling Groups aren't having organised rides but a list of local rides are available on the website for anyone to access and enjoy the wild flowers, the Churches and picnic spots as you follow the route on the map or the road. Holidays may be curtailed but languages are still spoken and maybe having a 'foreign' outdoor coffee with a friend will challenge the best of us and provide some fun.
Group Leaders are feeling as uncertain about the future of their groups as the members who belong to them. It is going to be important as never before in these uncertain times to find ways of motivating ourselves, and keeping our interests bubbling over the winter. If you like the sound of a group, ring the organiser and chat about what you could do to further your knowledge until the group gets going again. The U3A is not encouraging meetings in people's homes but this does not mean that all activity has had to cease. T
here are ways and means to keep sane and perhaps now is the time for us to reap what we have sown, draw on our inner resources, keep in contact with friends and family, and revel in our own 'harvesttime'.