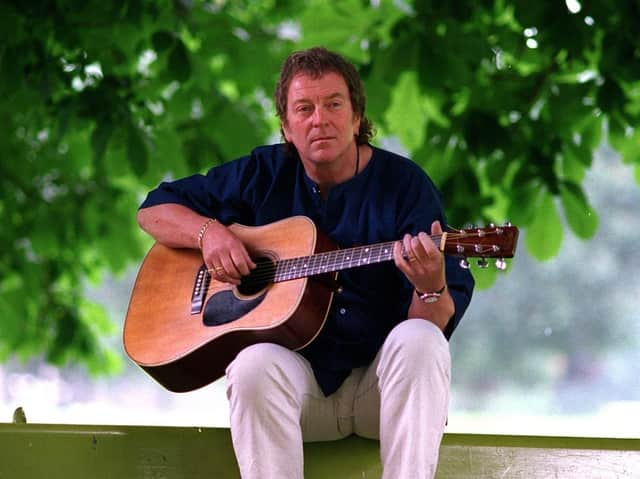 Harrogate musician Chris Simpson of Magna Carta fame in earlier times pictured on the Stray in Harrogate.
Chris Simpson, who is now in his 70s, will be presenting 50 years of prog folk at its best with the bestselling Magna Carta at Ripley Town Hall in the first month of the New Year.
The musician and writer's first album as a founding member of Magna Carta was released in 1969.
Since then, Chris and various line-ups of the band have played everywhere from the Royal Albert Hall to the Montreux Festival (with Santana and Cat Stevens).
And now it's back to Ripley where it all began when Chris's family lived near Hampsthwaite in the 1950s.
In Magna Carta's late 60s to mid-70s heyday, Simpson's band sold millions of records and brought him into contact with the superstars of the era such as David Bowie, George Harrison and Herb Alpert.
Since then they have recorded 25 albums, played in 78 countries and have sold nine million records including six gold and three silver albums.
Five classic Magna Carta albums
1. The Fields of Eden (2015)
2. Lord of the Ages (1973)
4. Songs from Wasties Orchard (1971)
Seasons, one of three Magna Carta albums featuring Elton John guitarist, Davey Johnstone. and the classic 1973 Lord of the Ages album, were released on the iconic Vertigo label.
For the 50th anniversary show, former Steeleye Span and Albion Band member Ken Nicol will be lending his not inconsiderate talents to the band.
Will the Magna Carta 50th anniversary gig at Ripley Town Hall on Saturday, January 25 be his final farewell?
With an ace line-up set to accompany Chris Simpson on stage at Ripley, fans of this great band will surely be hoping the answer is 'no'.