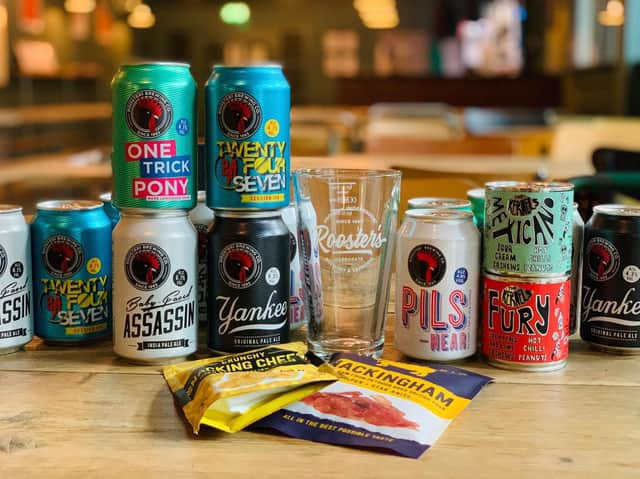 Part of award-winning Harrogate brewery Roosters new Take-Home Taproom delivery service.
The move follows Government advice earlier this week urging Brits to avoid going to the pub as part of measures designed to encourage social distancing.
Rooster's Take-Home Taproom includes a 15-strong selection of its core-range of award-winning vegan-friendly beers, four premium quality pub snacks, and details of how to access a specially curated playlist, developed by revered beer writer Pete Brown with each of the beers in mind. In addition, each case includes a Rooster's embossed beer glass and a pub quiz comprising of 50 questions.
It can be ordered through Rooster's online shop now for £35.
Commenting on the launch of the Take-Home Taproom, Rooster's commercial director Tom Fozard said: "With a growing number of people self-isolating as part of a national effort to overcome this terrible virus, we wanted to do our bit to help people through these difficult and strange times.
"Our Take-Home Taproom enables people to enjoy a taste of everything that makes our taproom so special from the comfort and safety of their own home and provides them with an opportunity to support a local, independent, family-run business that could really do with their support right now."
Rooster's acclaimed beers received further recognition last week, winning six gongs at the SIBA Independent Beer Awards.
It announced earlier this week that its Hornbeam Park taproom would continue to remain open, from Wednesday through to Sunday, with an array of measures in place to ensure the highest hygiene standards are maintained. It has said it will continue to monitor guidance closely and, should the government request that bars, pubs and taprooms close, it will follow such instruction to the letter.