Hazardous cycle route to school put to the test
A Ripon councillor took to two wheels to experience for himself the hazardous route a mother and her children take to school.
Tuesday, 20th April 2021, 3:34 pm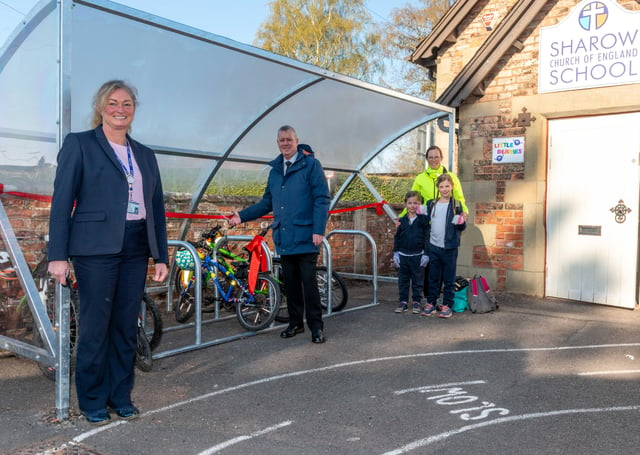 Coun Mike Chambers last week joined Mum Bethan Dailey who started cycling the one mile route to Sharow Primary during lockdown last year and blogged about her experiences.
Bethan said: "Ripon has practically no cycling infrastructure.
"There are virtually no cycle lanes at all, not on-road and not off-road.
"If you want to stay safe cycling with kids in Ripon you are forced to use pavements, public footpaths, private lanes and cut-throughs, river walkways and canal tow paths."
She added: "The lack of infrastructure in the town means that cycling shorter distances with children is virtually impossible unless you break all the rules and cycle illegally on the pavement - even then, there are many hazards along the route."
The mum's blogg on Harrogate District Cycle Action group website shows the youngsters riding on narrow footpaths along busy roads, just one part of the hazardous daily return journey.
Coun Chambers decided to join Bethan to see for himself and was also joined by cycling campaigners Ian Kendall and Dr Chris Bennett as he rode to the school.
Once there, Coun Chambers officially opened a cycle shelter which was bought with a grant from North Yorkshire County Council and installed during the Easter holidays.
It is hoped that the new shelter will encourage more students to cycle and scoot to school, now that they have secure, weatherproof storage.
Across the country, local authorities are encouraging residents to rethink local journeys and walk or cycle where they can instead of using cars.
Mrs Jacqui Palmer, Executive Headteacher of Sharow CE Primary and Skelton Newby Hall CE Primary, thanked Coun Chambers and NYCC for the generous financial contribution to the shelter.
She added: "Now that we have a weatherproof cycle shelter, we hope to see increasing numbers of children cycling and scooting to school.
"We are taking part in the Sustrans initiative Big Pedal 2021 from next week, and are planning to hold Bikeability courses this term to help children to cycle more safely.
"However we do need safer cycling and walking routes as well.
"We would support a local School Streets initiative to further raise the profile of safe, active travel to school and we hope to take this further with North Yorkshire County Council and other local primary schools."
The School Streets scheme already operates successfully in London, Leeds and Newcastle and offers a proactive solution for school communities to tackle air pollution, poor health and road danger reduction.
A School Street scheme encourages a healthier lifestyle and active travel to school for families and lead to a better environment for everyone.