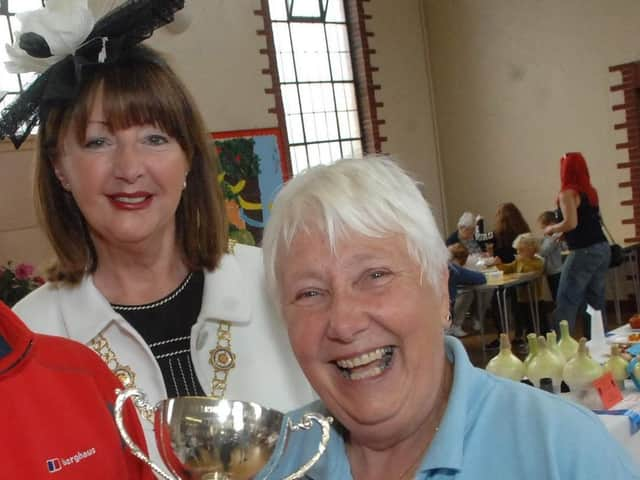 Harrogate's Christine Stewart, right, who featured in the New Year's Honours List, with former Harrogate mayor and councillor Anne Jones, left, who worked on the royal submission.
I feel really bad. I haven't congratulated my neighbour of five doors down yet on her amazing achievement in the New Year's Honours List.
The award of the British Empire Medal is long overdue for Christine Stewart who has devoted her life to community work for decades.
From supporting local charities to tending the flower beds for Starbeck in Bloom, she's given her individual time and effort to a whole range of common causes.
And Christine has never been shy of getting her hands dirty, sometimes literally.
Now, I know to receive a royal honour, someone has to submit a nomination, in this case, former Harrogate mayor and councillor Anne Jones.
But, asides from that vague piece of knowledge, I have absolutely no idea how it is decided which of the undoubtedly many submissions gets to receive such an honour.
And I don't want to know.
If the concept of 'transparency' was ever applied to the honours system, how long before MBEs or knighthoods would end up in a public vote like a royal version of the final of Strictly?
Be that as it may, my neighbour's royal honour is well deserved and, besides, Christine is also a regular contributor to this newspaper.
To be honest, though I'm always happy to say 'hello' to her in the street, I'm reluctant to engage in lengthy conversation with my remarkable neighbour.
The reason is simple. I'm worried I will end up volunteering.
So, if you happen to be travelling along Knaresborough Road one day in the future and catch sight of me down on my knees with a trowel in my hands, you'll know what has happened.
How quiet Harrogate is in that glorious interim period between Christmas and New Year's always takes me by surprise - even though I've experienced it every year for the last three decades.
It's almost as if someone had pulled the plug on the entire town for four or five days or an Armageddon had struck, albeit a benign one.
Riding to work on the bus at the start of the week along Knaresborough Road, breezing through the Empress roundabout, before gliding past the Stray into the bus station was a true joy. And so quick.
In the near absence of any cars, the only noise to be heard after I stepped off the number 1c bus, bought a black Americano coffee to go and started walking from the town centre to this newspaper's office off Skipton Road was one of near silence.
So lacking was the traffic at 8.15am, I could have crossed most of the roads without looking either way with no fear of getting knocked down.
The only people I came upon, as I scurried to work were small shop keepers opening up for the day.
It was like a scene from a Hollywood musical - without the dancing or the smiles or the music.
In the precious few days between Boxing Day and New Year's Eve, Harrogate is briefly a different place.
It's going to sound ridiculous but the sight of a lone runner making her way across the dark green of the Stray, the yellow warmth of the sun starting to seep from behind the treeline on the horizon, made me feel for a moment like all was right with the world.