Jail time for masked robber who terrorised Harrogate couple in their own home
A masked robber who terrorised a woman and her elderly partner in their own home has been jailed for over four years.
Monday, 1st March 2021, 11:23 am
Michael Palmer, 41, broke into a flat in Harrogate where the victim and her 60-year-old partner were asleep, York Crown Court heard.
The woman was awoken by the sound of glass smashing and got out of bed to investigate. She was confronted in the hallway by two masked men who had broken in by smashing a pane of glass in the front door, said prosecutor Andrew Finlay.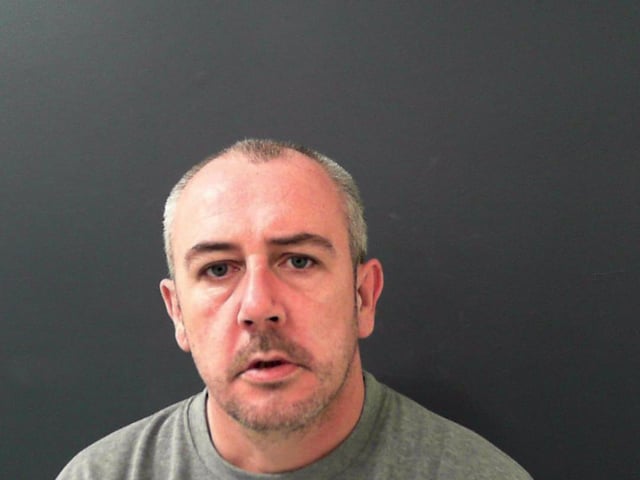 Michael Palmer, 41, was jailed for four years and seven months.
The two men – who were both wearing face coverings or balaclavas and one of whom was wearing a camouflage jacket – pushed the woman into the living room and demanded money.
One of them, thought to be Palmer's cohort, told her to get down on the floor and demanded she tell them where she kept her money as he stood over her.
"She said she didn't have any," added Mr Finlay.
"The (unnamed male) continued to shout (at) her, standing over her."
The intruders went looking around the flat and one of them went into the bedroom where the woman's partner, who was ill, was laid in bed.
They came back into the living room where the woman had grabbed a phone to try to call for help.
Palmer, who was on hard drugs at the time, demanded the phone from the woman, but she refused to hand it over, whereupon the cowardly duo left the flat empty-handed.
The woman, who had been living temporarily at her partner's flat, called police and gave them a description of the two men.
After a search of the area, they found Palmer and his cohort as they were emerging from a local property and were about to get into a taxi. They were both arrested.
The property was searched where police found a bag containing a crowbar, gloves, a home-made balaclava and a black jacket which had been worn by Palmer during the break-in. The balaclava had been made out of a sleeve with eyeholes cut into it, said Mr Finlay.
Glass fragments from the balaclava and jacket were found to have come from the point of entry, namely the smashed door pane, and DNA evidence was found on the clothes in the bag.
The two victims, who were named in court, said they had been "extremely scared about what happened and what (the robbers) were going to do".
The male victim said he had been having nightmares about the break-in. He and his partner were now very nervous when they went to bed and panicked "at every noise".
Palmer, of Butler Road, Harrogate, refused to answer police questions following his arrest, but ultimately admitted attempted robbery, which occurred at about 3.30am on February 22, 2019.
The court heard that Palmer was a career criminal with over 100 offences to his name, including burglaries, violence, intimidating a witness, shoplifting, public disorder and damaging property.
Defence barrister Ian Hudson said Palmer was hooked on crack cocaine at the time and also had an alcohol problem.
Mr Recorder Preston condemned Palmer for a "horrific offence of random violence inflicted on completely innocent people (who) were not young".
"This was planned, this was violent in its execution and caring not one bit that these two people who had done nothing to you were left traumatised," he added.
Mr Preston told Palmer: "The male (victim) was unwell and was confronted in his bedroom with one of you two (intruders). He's been having nightmares."
He slammed Palmer for his "appalling recorder of dishonesty and violence".
Palmer was jailed for four years and seven months, of which he will serve half behind bars before being released on parole.