Life on Tapp: Thankfully compassion knows no boundaries
​Death comes to us all, eventually, but as my family and I discovered recently, it can catch you out when least expected.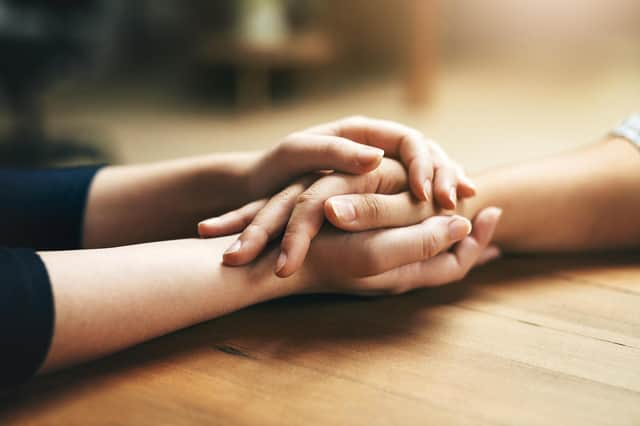 Blaise Tapp writes: A couple of weeks ago, our lives were turned upside down when my dear mum died suddenly. She was only 75. One minute I was fretting about whether or not to use an Oxford comma in an article I was working on, the next I was plucking up the courage to tell loved ones that my larger-than-life mother was gone. Just like that. Since then I have had an unwanted prime position on the rollercoaster that is grief and have absolutely no idea when it will finally come to a stop.
At the risk of sounding like one of those tedious Facebook memes, which are usually accompanied by a figure standing in front of a lake, I have always found that perspective is a great tool when dealing with life's challenges.
The trouble with grief is that it can be so disorientating and debilitating that any kind of rational thought processes go out of the window, which is especially inconvenient when you consider that the death of a parent tends to mean that you have more than a bit to do in the weeks afterwards.
I've described the first days of feeling like how I would imagine swimming across a lake of treacle while having a mind which felt like a washing machine on a spin cycle. Simple questions such as 'do you fancy a brew?' suddenly appear so complex that they require a level of deliberation that wouldn't look out of place on University Challenge. So when it came to deciding what sort of funeral service we would like, I was beyond flustered.
That's not that I didn't attempt to raise that subject while she was alive but my tentative enquiries were met with the kind of question avoidance that one would hear from a government minister on the Today programme. Anyone who tells you that it's crucial to reflect the wishes of the deceased when planning a funeral has probably never arranged one. For many people, talking about what happens after their demise is the ultimate taboo, meaning that it's left to those who are left behind to figure out whether they would've wanted a cremation or a burial, vol-au-vents or cucumber sandwiches.
As I write, the funeral is a few days away, and while we're confident that it will be a fitting final tribute to our beloved mum, there really is no way of knowing for certain whether she would've approved. It's taken me a while, but I've come to the conclusion that my judgement counts for something - I am a 46-year-old dad of two after all – and that we'll do her proud.
Although I am no stranger to bereavement, this time the shock of it all means it is different to anything else that I've experienced – it feels as though I am operating at half capacity and everything takes twice as long as it should. Fortunately – despite that, as a rule, the fact that life in the 21st Century seems to stop for nobody – people still make allowances for grief.
I am grateful to the cheerful chap in the barbers who, on asking me if I wanted the usual, had to contend with me blubbering like an oversized infant in his chair. Then there was the very busy lady at the local garage who got more than she bargained for when my voice began to crack when enquiring about how long I would need to wait for my car's MoT. Their small acts of kindness were appreciated at the time and will never be forgotten. Neither will the love that my family and I have been shown by friends and acquaintances.
While death and grief are all around us, it is reassuring to be reminded that, when we really need it, society's default position is to show compassion.