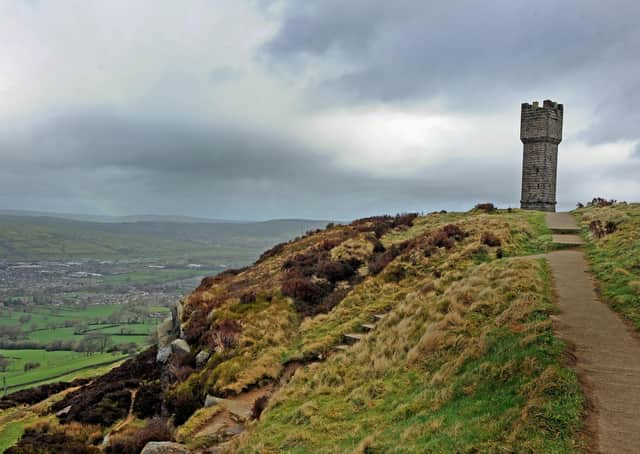 Lunds Tower a folly built in 1887, standing on Earls Crag close to Sutton-in-Craven near Skipton. Picture Tony Johnson.
In this week's programme there are eight walks to choose from, and they are spread over a wide area of Yorkshire.
Rambling is a great way of discovering new landscapes and villages – come and join us, you are very welcome.
On Sunday, March 1 the B group travel east to Rillington to start a 10 mile linear walk to Sherburn via Wintringham, while the C/D members plan a six and a half mile walk to explore the Mosaic Trail in Dallowgill, meeting at Tom Corner.
On Wednesday, March 4 there are six walks planned.
The A ramblers meet in Glusburn to start a 13 mile hike up to Lunds Tower and Burnt Hill, while the B+ members meet in Ripon for a 12 mile walk through Studley Park to Ingerthorpe Hall.
Meanwhile, the B group travel to Thorner to start a 10 mile ramble to Hetchell Crags and Bramham Park, and the C walkers meet in Dacre Banks for a seven and a half mile ramble to Guise Cliff and Smelthouses.
The D group start a six and a half mile circuit of Thruscross Reservoir meeting at the reservoir car park. while the E walkers catch the 1A bus to St James retail park to start a three mile ramble through Birkham Wood to Knaresborough.
l For further details on all these walks and for information about the club, visit www.harrogateramblingclub.org.uk
HARROGATE GROUP OF THE RAMBLERS' ASSOCIATION
Join us on a Nidderdale walk this weekend. New members welcome.
The eight mile route starts from Pateley Bridge and goes via Glasshouses, Wilsill and Blazefield to take a high level route above the town with fine views over Nidderdale. The route continues to Wath and Spring Wood, and returns to Pateley Bridge via the Nidderdale Way.
Meet at 9.30am on Saturday, February 29 at Nidd Walk long stay car park, HG3 5NA, 8.30am No. 24 bus from Harrogate.
For further information call 01423 506742 or visit http://www.harrogateramblers.org.uk
March 1 - Cannon Hall Country Park. The Denby Dale circular (including part of the Barnsley Boundary walk and Dearne Way). 10 miles. Call 01423 560378.
March 8 - From Addingham. Haw Pike, Chelker reservoir, through Bracken Ghyll Golf Club, returning along the Dales High Way through Addingham Cricket Club back into town. No need for bats and clubs! Much the same as last year but in the opposite direction. Different views. Just under eight miles. Call 01423 538229 or 07814 555808.
For further details on these walks, contact the telephone numbers provided. www.fellandale.org.uk - Join us for two walks without obligation. New members will receive a warm and friendly welcome.
NORTH YORKSHIRE FELL CLUB
On Sunday, March 1 we visit the North York Moors National Park for a 12 mile walk to Rudland Rigg and Bransdale.
On Sunday, March 8 we return to the Lake District to walk the Coledale Round from Braithwaite. This will be a challenging 12 mile walk with over 1,300m of ascent, taking in Grisedale Pike, Hopegill Head, Grasmoor, Crag Hill and Causey Pike. There will be spectacular views if we are blessed with clear conditions.
As a small, friendly club, we invite competent walkers to sample our varied programme of walks without obligation. For further information, ring 01423 885003.
NIDDERDALE LONG DISTANCE WALKERS' ASSOCIATION
Our 20 mile Around Pateley Bridge walk on Saturday, March 7 starts at 8.30am from the bridge at the bottom of the High Street, Pateley Bridge. Contact Mike on 07980 068702.
The group meetings are at 8pm on the third Tuesday of each month at The Woodlands Hotel, Wetherby Road, Harrogate.
Contact the secretary on 01423 864040 or see https://www.ldwa.org.uk/Nidderdale