Very rare detector door lock, from 1600s, features in Autumn Fine Sale
A very rare 17th century 'detector' lock is one of the stars of Tennants Auctioneers' Autumn Fine Sale, to take place on November 11.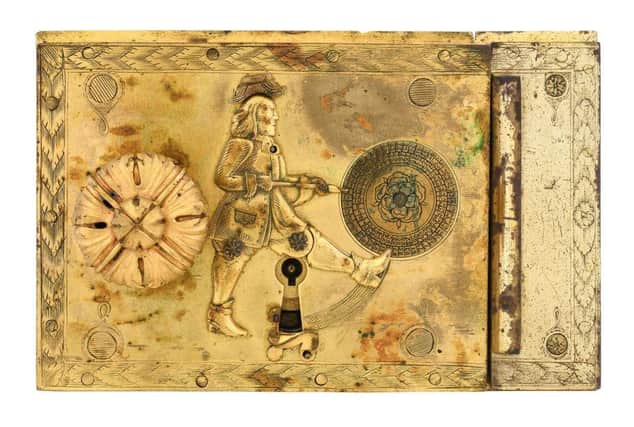 On offer with an estimate of £7,000-10,000 (plus buyer's premium), the beautifully engraved and engineered lock is embellished with a figure of a cavalier and was made by John Wilkes of Birmingham in the late 17th century.
The lock was designed to protect a private room or closet and incorporates ingenious features to enhance security.
Firstly, as the name suggests, the lock can detect how many times it has been opened since it was reset; when opened the dial moves to indicate by means of a pointed staff held by the cavalier the number of times it has been activated.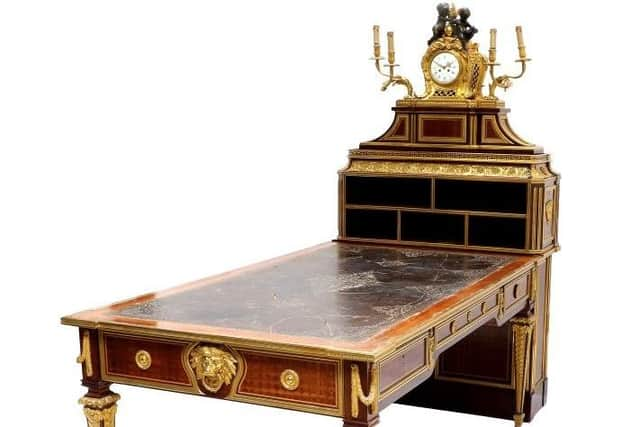 Once the pointer has reached 100 the mechanism can be reset by pressing a button on the soldier's breast and turning the key.
Secondly, the keyhole itself is hidden behind the foreleg of the cavalier, which is only revealed by activating a discreet switch that springs the leg forward on a pivot. Thirdly, the cavalier's hat when pushed locks the doorknob in place.
Between 1600 and 1700 locks became increasingly sophisticated, and this lock exemplifies a highpoint of the locksmiths' art.
It is one of a small group of similar locks made by John Wilkes (c.1651-1733), a locksmith who worked first in Staffordshire before moving to Birmingham.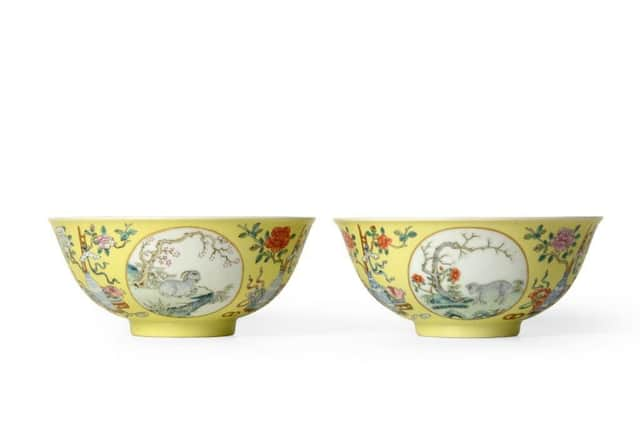 Other examples are held in the collections of the V&A, the Met Museum in New York and in Birmingham Museum and Art Gallery as well as in Sherborne Castle, Dorset, and Berkeley Castle, Gloucestershire.
A Pair of Chinese Porcelain Yellow Ground Medallion Bowls, bearing the Daoguang mark and made in the second quarter of the 19th century lead the Asian Art section of the sale.
Painted in enamels with scenes of a goat, a sheep and a ram, the bowls will be offered with an estimate of £30,000-50,000.
Among British and European ceramics in the sale are a selection of bear jugs from the Collection of the Late Stanley J. Seeger, including a Staffordshire White Saltglazed Stoneware example from the mid-18th century (est: £500-800), and a Pratt-Type Figure of a Young Bear made circa 1800 (est: £800-1,200).
Of interest to collectors is a circa 1756 Worcester Porcelain Coffee Can painted with the stag hunt pattern (est: £400-600).
A good selection of 19th century glass paperweights are on offer, including a Baccarat Spaced Millefiori example, dated 1848 (est: £600-800).
A private collection of barometers is led by a rare Mahogany Angle Barometer, signed C Aiano and made circa 1800 (estimate: £2,000-3,000) and a fine and rare One Day Marine Chronometer with an interesting naval history is on offer, est. £3,500-4,500.
Also of maritime interest is a rare French Gilt and Patinated Metal Automaton Quarter Deck Striking Clock made circa 1890 by Guilmet of Paris, in the form of the stern deck of a ship with an automaton sailor at the wheel (estimate: £4,000-5,000).
A Late 19th Century Louis XVI Style Bureau Plat et Cartonnier by Paul Sormani is offered with an estimate of £10,000-15,000. The integrated desk and cabinet was made by one of the most celebrated cabinetmakers working in Italy in the 19th century.
The sale will also include Selected Items Sold on Behalf of the Terry Family of York (Terry's Chocolates), including a George II Carved Giltwood Trumeau Over-mantel Mirror, incorporating a painting of an Italianate Landscape by a follower of John Wootton (estimate: £2,500-3,500), and a George II Oak, Boxwood and Ebony-Strung Enclosed Dresser (estimate: £1,500-2,500).