Rare textiles found in attics of Scottish country houses go up for auction
​A Costume, Accessories and Textiles Sale at Tennants Auctioneers will include two family collections of costume and textiles from Scottish country houses.
Offering a fascinating selection of over 150 lots of costume from the early 19th and early to mid-20th century, with fine linens, lace, Eastern textiles, and Edwardian baby clothes, the sale will be a delight for antique textiles enthusiasts.
Many items were beautifully packed away in paper tied with string and stored in trunks.
Fifty lots in the November 17 sale come from Cullaloe House in Fife.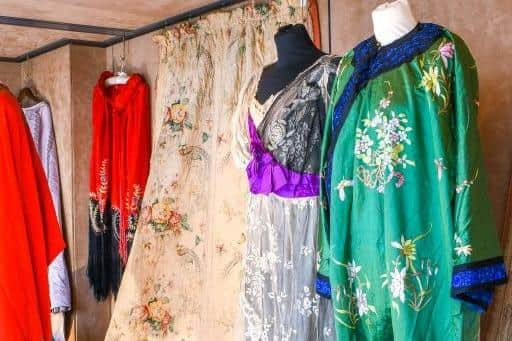 It is thought that much of the lace and fashion items dating from the late 19th and early 20th century belonged to the vendor's great-grandmother Sybil Blundell-Hollinshead-Blundell, née Dudley Ward (c.1878-1950), with later pieces likely belonging to her daughter, Violet Blundell-Hollinshead-Blundell (1906-1959).
The collection includes a good selection of linen dating to the turn of the 20th century, much of which was likely made by the family's linen mill in nearby Dunfermline.
James Mathewson & Son was one of eleven linen manufacturers in the town and earned themselves a Royal Warrant from Queen Victoria.
The factory closed in 1934 following the Wall Street Crash and the collapse of the lucrative American market. Examples of the factory's linens are held in the collections of the V&A.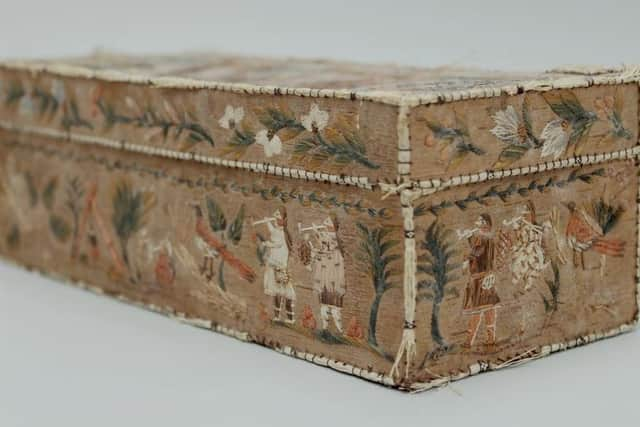 Highlights of the Family Collection from Cullaloe House, Fife, include an unusual early 20th century, possibly French Chantilly Lace Flounce woven with jump jockeys on horseback (estimate: £300-500 plus buyer's premium), and a late 19th century Brussels Appliqué and Embroidered Cream Lace Shawl (estimate: £200-300).
Among a selection of early 20th century linens is a White Linen Damask Table Cloth of Royal Interest, probably made by James Mathewson & Son, woven with a view of possibly Balmoral flanked by stags' heads, coronets for the heir apparent, and figures in Scottish dress with rifles and dogs (estimate: £250-350).
In addition, there are Hermes silk scarves, and late 19th century fans, including a Cream Silk example decorated with figures at a picnic in a rocky coastal landscape (estimate: £120-180).
The Contents of an Attic in Perthshire includes exceptional quality items collected by the family on their extensive travels.
Notable lots include a late 18th/early 19th century Native America Birch Bark Box with Cover, embroidered with dyed moose hair depicting scenes from everyday life (estimate: £200-300) and a late 19th century North American Feathered Fan (estimate: £80-120).
Further highlights of the collection include a decorative Scottish Sampler worked by Barbara Key in 1812, depicting a Georgian House with grand steps flanked by trees and animals (estimate: £500-800).
Good early costume includes a circa 1910 Evening Dress by Madame Percy of 15 South Audley Street, London, (estimate: £200-300), several pairs of early 19th century cream silk shoes including a pair made by Dutton & Throwgood 'Boot and Shoemakers to the Queen and Royal Family' of Brighton (estimate: £100-200), and an early 20th century navy wool long jacket made by W.J. Landels Ltd, 'Court Dress Maker, George Street, Edinburgh' (estimate: £120-180).
The sale will also display a Private Collection from Scotland of 18th and 19th century baby's bonnets and gowns, incorporating meticulously executed Ayrshire embroidery.
The collection was put together by Annette Porteous.
During the Covid lockdown, she embarked upon a project to catalogue and photograph each one, then reproduced them in two books; 18th & 19th Century Baby Bonnets: My Collection, and My Collection of Antique Baby Gowns.