New more energy efficient homes available in Tockwith
Those with an eye on rising energy costs and wanting to do their part for climate action are looking at the efficiencies of new homes, according to the latest research.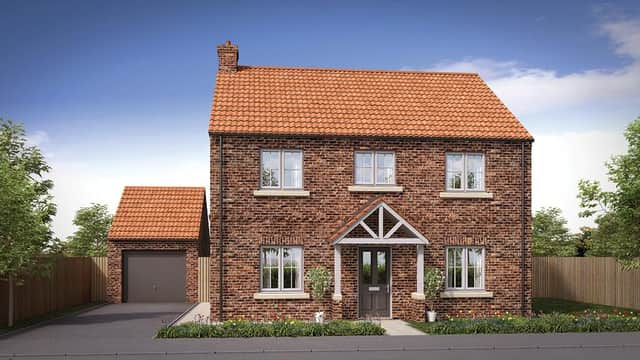 You can reserve the stylish Chatsworth house style
Escalating energy fees and pressure for climate action are already forcing broad shifts in the real estate industry.
Applications for unbuilt homes were 50 per cent higher in the first three months of 2022, according to data from Knight Frank, compared to the five-year average.
Research from the Home Builders Federation (HBF) also suggests buyers are becoming more aware of energy costs and consumption and in a recent survey, indicated that 3 in 4 people were worried about their property's energy performance. A quarter of the respondents also said energy effectiveness would be a crucial factor in their next move.
Some, like the Keswick, are available with double garages
Yorkshire-based developer, Mulgrave Properties has identified an "unprecedented increase in interest for lower carbon, energy efficient homes", most notably since the Chancellor's Spring statement in March. "Advocating a rapid attention switch to the savings sustainable real estate can deliver – from homeowners, developers and financiers alike," says director of Sales, David Smith.
Save with a green mortgage
Intensifying interest in eco-investment has created a considerable price cut for energy efficient homes, with major banks turning their attention to 'green credentials' as a means to reduce mortgage rates. "Presenting a cost-deducting opportunity for buying brand-new properties", David continues.
By providing best in class efficiency, developers can "tap into demand from buyers who not only want to do best for the environment, but also save a substantial amount of money as tighter regulations loom - eventually causing older homes to be a lot more expensive to maintain," he adds.
The Skipton, available at Tockwith, is another of their greener homes.
Green mortgages are a huge step in making it more financially viable to purchase a new-build property and by doing so, contributing to worldwide net zero carbon ambitions.
In fact, buyers who purchased newly built homes in 2021 saved an average of 52 per cent on their annual energy costs, according to analysis from Zoopla.
The majority of pre-existing UK properties will also be required have an EPC rating of C or higher by 2035 and homeowners soon risk spending tens of thousands on improvements, such as installing double glazing and comprehensive insulation.
However, statistics from the HBF show new-build houses are much more energy efficient and in 2021, 84 per cent held an EPC rating of B or higher. While among older, second-hand properties, the share was just 3 per cent, which could cost buyers thousands in gas bills and mortgage repayments.
Looking to move house and want style, quality and lower fuel bills?
Many obstacles can (and do) hinder prospective homeowners from securing their dream property and being pipped to the post by someone with deeper pockets is just one of them. But when buying with Mulgrave, you can rest assured that as soon as you have reserved your home, you will not be forced to pay a higher price than agreed. No gazumping guaranteed!!
Curb the cost of moving at Church Farm
Switch on to saving in more ways than one at Church Farm, Tockwith. Where the few remaining four-bedroom properties are due to be completed later this year and early 2023. Showcasing an open-plan kitchen and dining, as well as a turfed rear garden.
To help curb the cost of moving, free floor coverings are included when you purchase Plot 60 – The Keswick, the fabulously furnished show house – and, as Mulgrave's properties are EPC rated B, you could save thousands in gas guzzling bills and repayments.
Interiors have been styled by The Design House in Fulford, York and curtains, blinds and light fittings are included within a fixed price of £799,950. There's also the option to purchase furniture packages, so that everything is set come move in day and reservation will be first-come first-served.
Only ten miles from York and six miles to Wetherby, don't miss out on a brand-new home in Tockwith, perfect for first time buyers, young professionals, or anyone looking to minimise both maintenance and long-term expense.