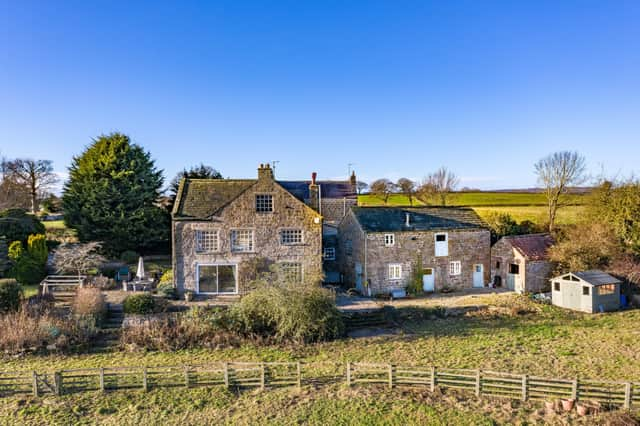 Hardgate House & Cottage, Bishop Thornton - guide price £1.5m with Robin Jessop, 01969 622800.
If there's one thing being cooped up with the family taught us, it was that we all value elbow-room and solitude from time to time, and by the time that first pandemic year was over, thousands of homeowners had swapped city apartments for rural retreats.
The greatest exodus was from London, and the pendulum is reported to have partially swung back the other way, with many "Covid refugees" returning to the capital after discovering country life wasn't for them after all.
Yet for many others, the lesson stuck, and a steady stream of London money continues to flow outwards, some of it to our region.
Rigton Grange, Church Hill, North Rigton - guide price £2.75m with Myrings, 01423 566400.
For those looking for more space – whether they're London "exiles" or more local to the area – large country houses are hard to beat. Manors, farmhouses and barn conversions are all in great demand, and for those with the cash, an extra cottage can swing the deal. This could ideal be for a semi-dependent relative, or it could be used to generate revenue and help pay the mortgage, either as a holiday let or as a year-round home for local residents. The following three properties all have cottages included in the price and are all currently for sale in our area.
Hardgate House, at Bishop Thornton, is a spacious country house with views to the south towards Ripley. It has a large master bedroom with en suite bathroom and dressing room, plus five other bedrooms and a house shower-room. On the ground floor there is a dining kitchen, cellar, snug, dining hall and 30-foot drawing room.
It stands in nearly three acres, with gardens, orchard, paddock and pond, plus outbuildings including a car-port, a detached two-storey stone barn, stables and a single-storey boot and laundry room.
The adjacent Hardgate Cottage has a kitchen, living room, bathroom and two bedrooms, plus parking for two cars.
Bobbin Mill Cottage, Glasshouses - £750,000 with Dacre, Son & Hartley, 01423 711010.
On the edge of North Rigton, Rigton Grange was originally part of the Harewood Est-
ate. Standing in nearly three acres, it has five bedrooms, two bathrooms, a grand hall, dining room, sitting room, kitchen, utility room, wine room, gym, office, study, and attached double garage.
The cottage has two bedrooms with en-suite shower-rooms, plus its own private garden and allocated parking.
There are also gardens and paddocks with pond, summerhouse and a range of outbuildings, including a detached barn, which has planning consent for use as a studio. There is also planning consent for another wing, which could make a spa complex.
Finally, Bobbin Mill Cottage in Nidderdale is believed to have been built before 1840 as part of a traditional mill complex that manufactured bobbins and milled corn. The mill was demolished in the 1920s, leaving just the millpond and garden house. Exploiting the of natural spring waters, the gardens were later used for a trout farm.
The house has four bedrooms, two reception rooms and three-quarters of an acre of gardens, plus a detached two-bedroom cottage.