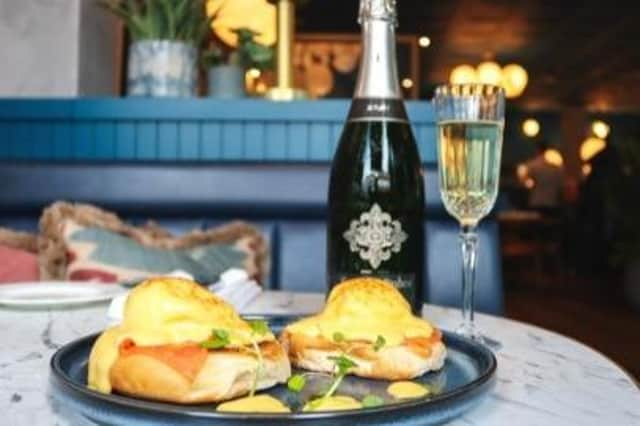 Win table for four for bottomless brunch with friends
If you want the holiday vibe this summer, then Harrogate's recently opened 63rd + 1st is the place to try tempting sharing plates and cocktails, wines and beers with a taste of the Big Apple.
It is the perfect new venue for lunch, dinner and all-day dining – and only a three-minute walk from the train station.
Robert Cook, CEO: "We exude that New York feeling and bring a taste of the Big Apple to Harrogate. Our menu is inspired by the street food scene in Manhattan and celebrates the personality and principles of iconic classic cocktails, quality eclectic food and legendary atmosphere."
Get the holiday vibe with cocktails at new restaurant
Win a free table for four
You'll be spoilt for choice. Pick from eggs benedict, eggs royale, eggs florentine, smashed avo with poached eggs on toasted sourdough, or a full breakfast plate with bacon, sausage, black pudding, mushrooms, tomato, eggs, potato rosti and sourdough toast.
Then wash it all down with tasty Segura Viudas brut reserva cava, Villa dei Fiori pecorino, Chalk Farm merlot, 63rd+1st lager or fruit juice.
Perfect for lunch or after-work drinks
For those not lucky enough to win, the 63rd+1st bottomless brunch is available every Friday, Saturday and Sunday, from 11am-3.30pm.
To enter the competition click here and answer the simple question. The closing date for entries is 11.59pm on August 31st.
Meet for lunch or after-work cocktails
It is the perfect new venue for lunch, dinner and all-day dining
63rd+1st is also the perfect place to grab a fresh coffee, lunch with colleagues or friends and meet for after-work drinks. Handcrafted cocktails range from a classic negroni to a timeless old fashioned, or try a playful aperol spritz or retro pina colada.
Tempting sharing plates include buttermilk chicken lollipops with chilli jam, roasted beetroot with goats cheese and honey or a knickerbocker glory. Or get into the Manhattan vibe with a mozzarella corn dog in the heart of Harrogate.
Free ice-cream and Mad Hatters tea party
Children are also welcome and can choose from the child-friendly menu, which is always a hit. The table top ordering system keeps little fingers busy.
If you are looking for fun things to do in the summer holidays, visit 63rd+1st to see its Lego Mad Hatters tea party installation as part of the Alice in Wonderland themed Harrogate Lego Trail during August.
Children can enjoy free ice-cream when they go for a visit.
Talented saxophonist Simon Levi plays every first Saturday of the month. Simon is one of the UK's most popular saxophonists, who rocks dance floors in the UK and abroad in Marbella and Ibiza playing a mix of house, jazz, funk and soul.
63rd + 1st is in Westgate House on Albert Street, Harrogate. Call 0330 460 5599.