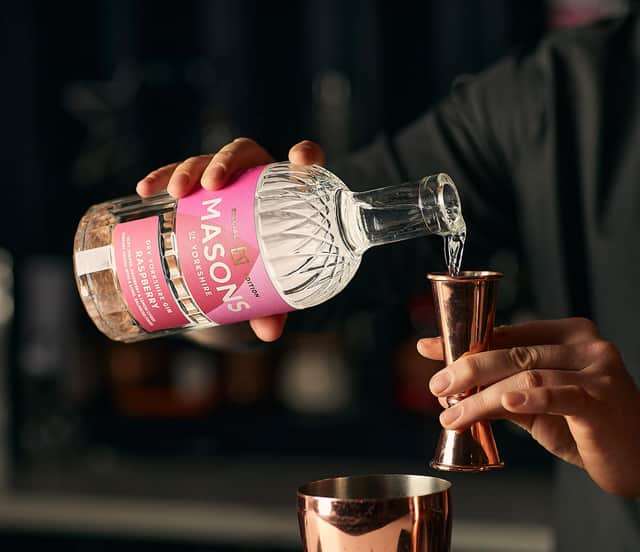 Masons of Yorkshire has launched their first Special Edition Raspberry Gin
Masons, renowned for their award-winning quality, uncompromising approach to distillation and no gimmicks gins, launched the very first product in their new Special Edition range to celebrate their love for flavour.
After months of development that saw over 6,000 raspberries distilled in the process, Masons Raspberry Gin puts exceptional flavour above everything.
Like all Masons gins it contains no artificial colours, flavours or syrups, to offer a clear gin that lets its natural ingredients shine through.
Soft juniper, raspberries and punchy citrus combine to create a gin with a vibrant aroma, fruity flavour and a long, balanced finish. For the perfect G&T, serve with plenty of ice, premium tonic water and a garnish of fresh raspberries and a sage leaf.
And to celebrate we have teamed up with them to give away a bottle.
For a chance to win, over 18s and UK entrants only, simply enter our free prize draw - see link with full terms and conditions below.
BUY NOW: Guarantee your bottle - Masons Raspberry Gin (RRP £34) is available via Masons' website at www.masonsofyorkshire.com.
Produced to exceptional London Dry standards, Masons Gin is made without compromise or shortcuts to create a curated collection of exceptional gins which also include recent addition Orange & Lime Leaf, as well as popular English Lavender alongside its best-selling Masons Original and iconic Masons Tea Edition.
WIN: New Masons Special Edition Raspberry Gin
We have a bottle of Masons Raspberry Gin up for grabs in our free draw online - TO ENTER CLICK HERE.
Winners will be chosen at random and notified after deadline, which is noon on Monday, February 22, 2021.
Soft juniper, raspberries and punchy citrus combine to create a gin with a vibrant aroma
Your data will be shared securely between JPIMedia and promoters Masons of Yorkshire to alert winners and distribute prizes. We respect your privacy and your details will not be used for any other purpose than that for which you have given consent.
Masons Raspberry Gin (RRP £34) available at www.masonsofyorkshire.com