Searching for the answers
School is out for parents as much as their children this summer holiday.
Thursday, 16th July 2020, 3:34 pm
Updated
Friday, 17th July 2020, 11:16 am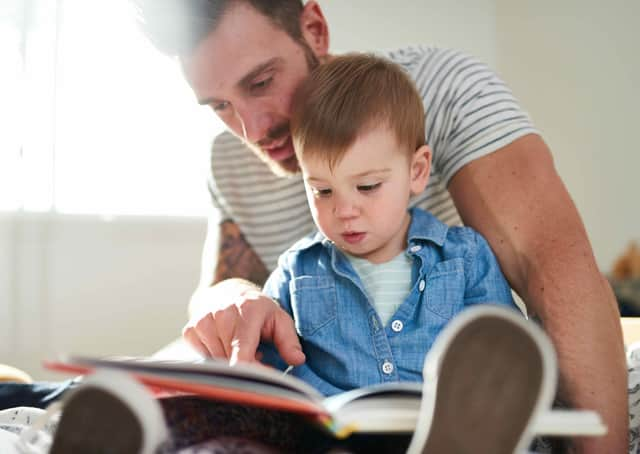 Attractive father teaching cute child daughter reading and writing skills through loving parenting, while lying on cosy bed in bright modern home
Since nationwide school closures were announced in March, parents all over the country have been forced to brush up on their school smarts and help tutor their kids.
Now, a survey of over 1,000 UK parents, combined with analysis of Google search trends, reveals all about the lockdown homeschooling experience, including in Leeds.
Commissioned by Clarks, the survey found that the most enjoyable subjects for parents to teach are maths (49%), English (43%), history (27%), science (26%), and art (25%).
Despite being deemed enjoyable, some of these subjects have also been challenging. Nearly a third of those surveyed said maths has been the most difficult to teach, followed by English (17%), science (15%), foreign languages (12%), history (7%) and IT. (7%).
To get help with homeschooling, over half (52%) of the nation's parents turn to Google.
Those in Leeds were among the top five cities searching for KS2 maths questions.
Virtual lessons held by celebrities have also been popular – whether it's PE with Joe Wicks or David Attenborough's geography classes, nearly a quarter (24%) of UK parents cited this as a homeschooling resource.
Looking at who is adopting this new format for learning, a quarter of women teaching their kids have claimed to be tuning in, compared to only a fifth of men. It was also found that parents aged 25-34 use them more than any other age group.
Analysis of Google search data shows that searches around geography have increased by 398% on average since April 2019.
The average search volume for other subjects has also soared, including maths (299%), history (269%), English (264%) and science (252%).
Leeds ranks first in Google search for Geography, third in maths and history, fourth in science, and fifth in English.
With 49,500 searches a month, 'how to work out percentages' is the most common maths question parents look for answers to online.
But it's 'what is a factor in maths' that has seen the biggest spike in maths-related searches by far, with a huge 2,485% increase compared to April 2019.
In English, 'what is a verb' is searched for 40,500 times a month – an increase of 334%.
'How many bones in the human body' is the science question which has seen a 914% surge in Google searches since April last year.
In geography, 'what is photosynthesis' may only have a monthly search volume of 6,600, but this is a 224% increase on April 2019.
Whilst in history, 'who discovered penicillin' has leapt 503%.