RETRO: A throwback to the 1980s in Harrogate
This week's trip down Memory Lane is a throwback to the second half of the 80s.
Thursday, 24th June 2021, 3:46 pm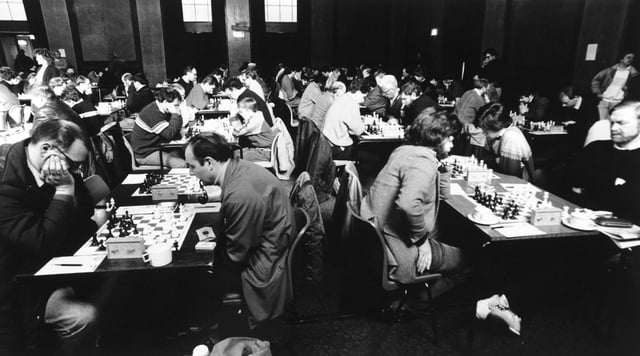 Harrogate, 24th March 1989 The scene at the Yorkshire Chess Championships at The Royal baths, Harrogate.
This week's trip down Memory Lane is a throwback to the second half of the 80s.
The pictures, from the archives of the Harrogate Advertiser and our sister paper The Yorkshire Post, were taken around North Yorkshire between 1985 and 1989.
There's a couple of famous faces featured in this week's pages - including The Queen, Prince Philip and Keith Chegwin. There's also a couple of retro teams from the world of sport - did you used to play for any of these clubs?
Harrogate. 22nd November 1985 This historic coach was given its first public showing after a 3.5 year restoration prograrmme.
Do you recognise yourself in any of this week's photographs?
Send your pictures for a future Retro page to [email protected] Please include details about the image, your name and contact details. For more retro pictures, visit: www.harrogateadvertiser.co.uk
4th April 1985. The Queen accompanied by the Lord Mayor of Harrogate does a walkabout in Station Parade, Harrogate.
Harrogate, 8th June 1987 All Smiles: David Bairstow and Martyn Moxon all smiles after their centuries on an excellent day for Yorkshire at Harrogate yesterday. Moxon also snapped up three slip catches.
Pannal, near Harrogate, 1989 Platform one, The Train Now Standing. Pub and Restaurant.
Knaresborough Town, who play in the Premier Division of the Harrogate and District League. Back from left: Paul Wilcock, Robby Pearson, Geoff Cooper, Mark Wright, Mark Booth, John Huby, John Wright. Front: Mark Codman, Mick Dawes, Heath Anderson, Glen Garbutt, Neil Bland, John Grafton. Picture Steve Riding. 11th December 1989
Harrogate, 21st March 1988 Next time it could be Olympic gold for the skiing Bell brothers, Councillor Douglas Muscroft, Mayor of Harrogate, told a civic reception in their honour. The Mayor hosted a reception in the council chamber for the brothers. He presented them with a Harrogate plaque and tie. He said Martin, in finishing eighth in the Calgary Downhill, had done better than any previous British skier.