Residents' battle to save historic Harrogate bridge
A group of Harrogate residents are appealing for help to save a crumbling and potentially dangerous bridge at one of the town's most secluded and attractive walkways.
Monday, 2nd December 2019, 9:31 am
Updated
Monday, 2nd December 2019, 9:31 am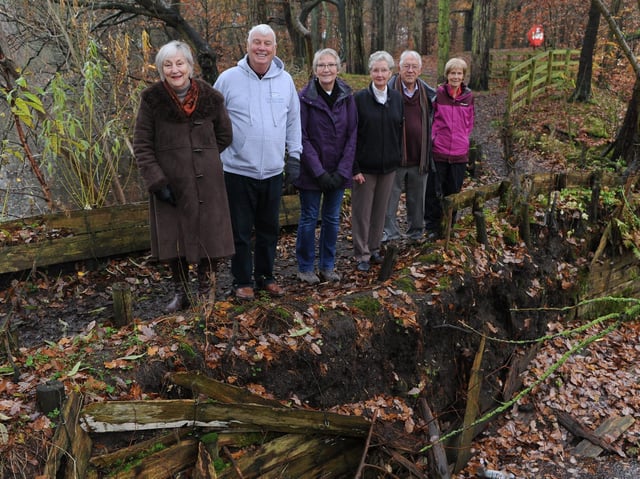 Help! Residents and members of Hookstone and Stonefall Action Group at the crumbliing bridge - Gillian Fernie, James Fernie, Sandie Graville, Isobel Beard, Chris Beard and Helen Norris. Picture: Gerard Binks
Affectionately known as 'Hooky Bridge', the willow bridge has proven popular with local residents, members of running clubs and dog walkers since it was first built in 1995 to create a footway across a narrow channel between the two ponds at Hookstone Wood.
The woods and ponds are literally steeped in Harrogate's history. In the 1800s, the 29-acre area of deciduous trees was the subject of quarrying for what is believed to be millstone grit.
But much of the wooden planks on the bridge, whose construction was promoted by the former Hookstone Wood and Crimple Wood Preservation Group and supported by Harrogate Borough Council, is now decaying and rotten
Chris Beard of the current Hookstone and Stonefall Action Group said: "The bridge is part of the heritage of the area; so many people use it on a daily basis. It's a superb facility.
"It was built of willow at first but soon required wooden supports.
"But the boarding is now rotting and is gradually becoming unsafe."
In the short-run, the group is talking to Harrogate Borough Council's parks department about repairing the bridge which was designed and constructed by Jamie McCullough nearly 25 years ago.
But Chris Beard, who is himself a former head of the parks department, said it would be difficult to stick to the original designs unless the entire bridge was rebuilt from scratch.
He said: "The council are putting up protective fencing for the temporary safety of the public. But it could be that, in the long run, it would be better to build a new bridge altogether with a metal frame clad in wood."
Hookstone and Stonefall Action Group is also considering whether to commission a new feature at the bridge - two gateposts in stone reflecting the area's 19th century past.
It is now seeking the views of the public on how best to progress.