Harrogate Town fan, 86, first watched team in 1940s
If Harrogate Town FC's talented footballers win promotion to the Football League proper this season, it will mean a lot to its fans but, for one of them, it will mean simply everything.
Monday, 3rd February 2020, 4:44 pm
Updated
Monday, 3rd February 2020, 4:44 pm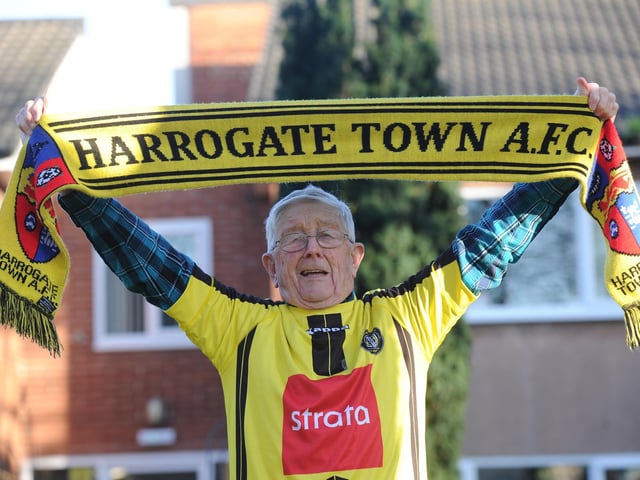 86-year-old John Walker, Harrogate Town FCs greatest fan, who has been following them for more than 70 years. (Picture: Gered Binks)
For John Walker, 86, is the super fan to beat them all. His health may not be as strong as it once was but his belief in the club has never wavered.
Since this indomitable supporter first paid to watch Harrogate Town - wearing short trousers in the 1940s - he says he has wanted only one thing for the team he loves... to play against the top flight clubs.
And that faith finally looks like it could be rewarded 70 years on, with Town currently sitting second top in the National League.
The rise from the West Yorkshire League to the brink of the Football League is one which has thrilled John, and now that his dream is finally within touching distance, this passionate super fan can scarcely believe it.
Mr Walker said: "Before my life goes, I would like to see Town in the Football League proper.
"It's been my one ambition since I was a kid and my dad first took me to a Harrogate Town game.
"We have a great chance of going up this season, though the leaders Barrow do have a couple of games in hand on us.
"When I first went to the matches in the 1940s, the club was called Harrogate Hotspurs and I would think to myself, wouldn't it be great if we could play Tottenham Hotspur every season?"
Despite having had to move from his family home in Harrogate to Ripon to live in assisted accomodation a couple of years ago, the hardy John still gets to most home matches to watch his beloved Town.
But he has to admit there has been a lot of changes since he first watched the team in the West Yorkshire League 70 years ago as a pupil at New Park Primary School in Harrogate.
He said: "I remember the early days when we had a broken down old stand which we'd got from Yorkshire Cricket Club and the loo was under a bit of tin. The manager Simon Weaver is doing brilliantly with the players now but the chairman Irving Weaver has also done a superb job improving the ground and bringing in an all-weather pitch."
When asked what his favourite Harrogate Town team is from the 1940s to the present day, John has a simple answer - this one.
He said: "The best team is this team. My favourite player is number eight, Jack Emmett, he's so quick and so sharp."
As a long-time member of Harrogate Town Supporters Club, John has never been one to just stand and watch.
From the very beginning, he volunteered to man the gate, run the raffle, do anything that was needed done.
He still remembers working in the 1950s with then club secretary Charlie Hartley, helping round the ground.
He even showed up at matches on leave from the army during National Service.
It's no surprise current chairman Irving Weaver stepped in a couple of years ago to grant John a season ticket for life.
John's infectious passion for Harrogate Town was shared by his late wife Margaret and he still tries to pass it on to everyone he meets.
For decade after decade, the club have meant everything to John.
He said: "Harrogate Town are my life. It if wasn't for the club, I wouldn't have done anything with my life."