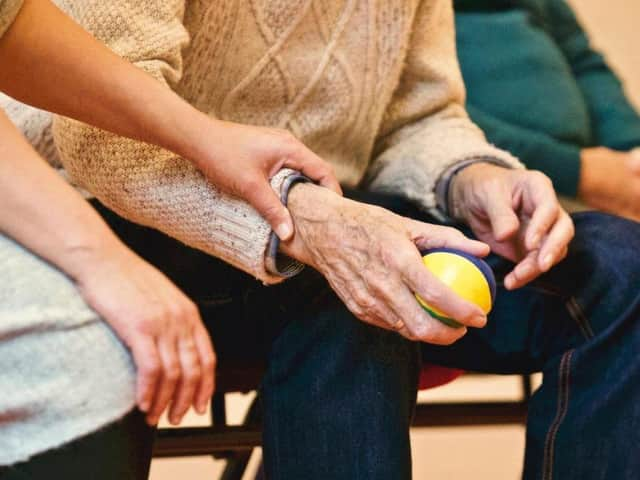 Social care in Harrogate is the most expensive across North Yorkshire, with an average residential cost of over £1,000 per week.
After years of promises to fix the system, the government is coming under renewed pressure for failing to establish a firm plan to tackle the sector's funding crisis which experts believe is a major reason for the UK suffering Europe's worst Covid death toll.
Prime Minister Boris Johnson has said he will bring forward a 10-year plan later this year but, in the meantime, families across the country are feeling the financial and emotional fallout from a sector under strain.
In North Yorkshire, the Harrogate district is the most expensive area to get care for loved ones with the average weekly cost of residential care this year reaching £1,055 and the same figure for nursing climbing to £1,061.
Over a one year period, these costs equate to more than £55,000.
While there are no legal limits on costs, North Yorkshire County Council does set an approved rate of £599 and £592 for residential and nursing respectively - and 90% of care providers in the Harrogate district currently exceed this.
These climbing costs driven by an inflated market are why Ross Kneller, director of St Margaret's Home Care, believes social care is facing a "ticking time bomb" with worrying consequences for elderly and vulnerable residents who rely on the system.
He said his company - which provides 24/7 care services in Harrogate, York and Selby - is up against a wave of big businesses looking to cash in on these high prices by using less qualified and less skilled staff.
Mr Kneller said: "There is a real feeling in the industry that we are at the cusp of a devastating wave that is about to crush the lives of thousands of vulnerable people.
"The domiciliary homecare market is an ever-growing giant of an industry. The nation is living longer, and they all want to stay at home for as long as possible.
"This booming industry is naturally attracting a host of new domiciliary care agencies all looking to take a share of the market.
"The private market is the preferred target for profit seekers. The private market pays the highest rates and is therefore the preferred choice for any venture looking to reap maximum profits from the industry.
"What about the majority of elderly, and vulnerable, across the country who rely on social services to provide them with quality care? They are being forgotten and will very soon suffer for the lack of care on offer to them.
"Thankfully there are many providers who still see the industry as a vocation led business, as well as a means to making profit.
"Unless the government helps agencies there will come a time when only the wealthy will receive the care they need as they grow older or become ill."
After years of government cuts, local authorities including North Yorkshire County Council are under massive financial pressure, and in turn, care homes who they fund have been cash-strapped too.
Meanwhile, and in the midst of the pandemic, government plans to address an imbalance in the system have been blown out of the water.
A cap on the costs of social care, a specific tax to help find the extra billions needed in funding and directing more cash straight to care homes are all ideas which have previously been brought to table.
But until the government eventually brings forward its exact proposals to reform the system, many struggling families will have to wait longer and dig deeper into their pockets
How is social care funded?
Under current rules, those needing social care must fund it themselves down to their last £23,250, and only then will the local authority step in.
In the Harrogate district, it is North Yorkshire County Council which carries out assessments to determine how much support people should get.
Richard Webb, the council's director of health and adult services, said around 70% of people using care services in the district fund it themselves.
He also said the authority had taken action on the climbing costs by carrying out a Covid-delayed actual cost of care exercise, as well as purchasing a £1.8m plot of land at Harrogate's Cardale Park to build an extra care facility.
Mr Webb added there was also the potential for the council to buy other sites for more care facilities across the county as it looks to intervene in the market.
He said: "The rising costs make the purchase of care more expensive for the Council and individuals who are contributing to the cost of their care.
"The council is considering a range of options in the care market with a view to supporting providers and ensuring sustainable costs can be achieved in the medium to long term.
"The consequence of an inflated care market is ultimately that people will pay more and their resources will be used more on the costs of care. When those resources deplete then the cost burden shifts to taxpayers via council funded care provision."
What is the picture across the UK?
Unlike health care, social care is not generally provided for free in England.
In Scotland, free personal care is already available, while home care is free for the over 75s in Northern Ireland, and some care costs are capped in Wales too.
A personal cap on care costs in England was reportedly being considered by ministers prior to the coronavirus outbreak and is an idea which was first raised during talks with Sir Andrew Dilnot, the former UK statistics chief, whose proposals were previously abandoned in 2017.
By Jacob Webster, Local Democracy Reporter