Revolutionising care in Harrogate, Wetherby and North Yorkshire – new nursing director for Radfield Home Care
Radfield Home Care, a premium private home care company respected widely for its unbeatable quality and dedication to the care sector, is pleased to announce that it has become a fully healthcare-led service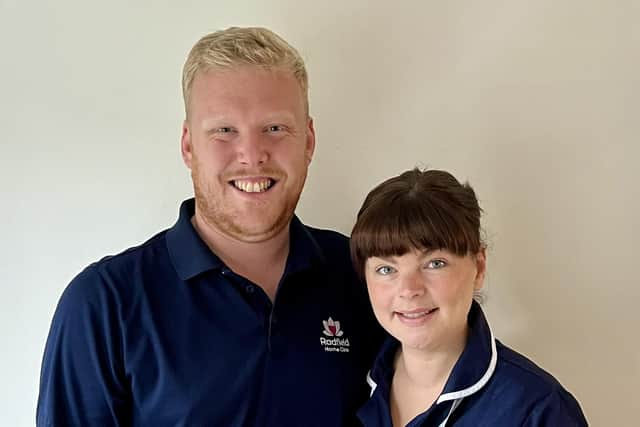 With the appointment of a new Nursing Director, the company is firmly establishing its commitment to prioritising the health and well-being of people in
Matthew Nutting, a former Occupational Therapist in the NHS, and his father Jonathan Nutting, a Chartered Accountant, established the Harrogate branch of Radfield Home Care in 2018. Recognising the profound challenges encountered in the social care sector, they launched a unique care service under the Radfield Home Care franchise. Over five fruitful years, the duo garnered immense respect and trust for their compassionate service, contributing to making Radfield Home Care an esteemed name in the area.
Following a successful tenure, Jonathan Nutting has passed over his role. A registered Nurse, Natalie Nutting – Matthew Nutting's dedicated wife – will join the leadership of the company, marking the transition of Radfield Home Care to a fully healthcare-oriented service. Natalie will fulfil this high-profile position whilst continuing her part-time work in the NHS.
Natalie expressed her enthusiasm about her new role: "I'm thrilled to join the family business. I've spent my life caring for people and find immense satisfaction in getting to know individuals, their lives, and their families on a profound level. This position provides a unique opportunity to extend my passion for care on a larger scale."
Reflecting on the shift, Matthew conveyed his gratitude to his father. He said: "Over the past five years, having an experienced and highly qualified financial expert as part of our journey has endowed us with a steady base. We have been able to build not only as a family but also as a service thanks to this foundation."
With a dynamic leadership team comprised of a registered nurse and occupational therapist, Radfield Home Care is set to redefine home care services in the region. The company's primary focus remains on delivering excellent quality of care, echoing Matthew and Natalie's shared ambition of making Radfield- the go-to home care service in the region.
For more information about Radfield Home Care and potential job opportunities as Care Professionals, you can contact them at 01423 608760 or email [email protected]. And you can find out more at www.radfieldhomecare.co.uk