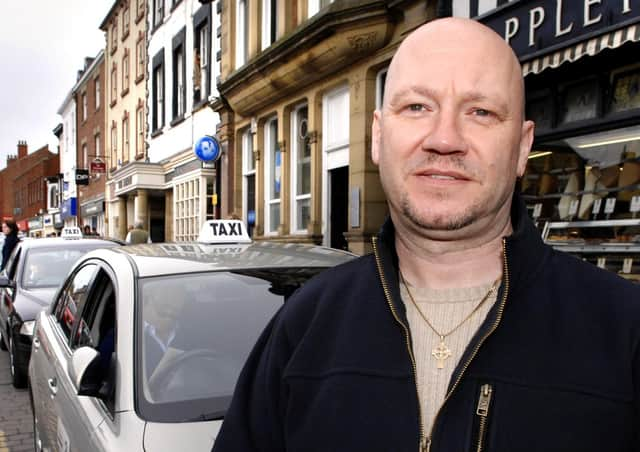 Taxi driver Richard Fieldman.
The plea from Richard Fieldman, of A1 Cars of Ripon and Harrogate, comes after he said many ignore Covid-19 rules and he has had to threaten some with people with eviction.
"It beggars belief that after all this time, and all we have been through, people are still getting into taxis with no masks, or saying the haven't got one, or removing them once in the taxi, and even not having them over their noses," said Richard.
"It seems to be more of a problem now than the last lockdown but I had issues then when I had to take it up with the council to get the council's backing to refuse customers if they weren't wearing masks."
Richard, who has been in the taxi service for 28 years and was a former chairman of the regional and national taxi associations, said the easing of lockdown sparked the latest problems.
"Since things eased up on April 12, it seems to be more of an issue and it has driven me nuts over this last weekend.
"I work nights and it has been terrible, even from the most respectable people that you get in the car."
He added that he keeps masks onboard and gives them out to those aiming to travel without one.
"You set off on your journey and you look in the mirror and you see that they've slipped it down under their chin or they don't put it on properly and it's under their nose.
"You sometimes get into an uneasy feeling when you are constantly having to say 'can you put your mask back on or otherwise I am going to ask you to leave the vehicle'.
"For some reason people seem to think that because it is not a premises, ie a shop, it doesn't matter. It sort of creates a bit of bad feeling."
Richard, who is suffering from suspected long covid, after catching Covid last year, said his taxis are sanitised after every journey and sanitiser is carried onboard for people to use but nobody does.
"It's a big concern for me. I have underlying health conditions and I do feel vulnerable that people feel so blase about it.
"I had two lads in on Friday night and got in with their masks on and half way through the journey they started munching on sandwiches. It's not that they don't know the rules."
"We can't carry on going through lockdown after lockdown and we have all sacrificed a lot to get where we are.
"I think the vaccination programme has been tremendous and I just think it is a shame that people can't stick to the rules and people don't think the threat is there anymore.
"It's a case of not giving up the fight now."
A spokesman for Harrogate Borough Council said they did not wish to comment on the matter.