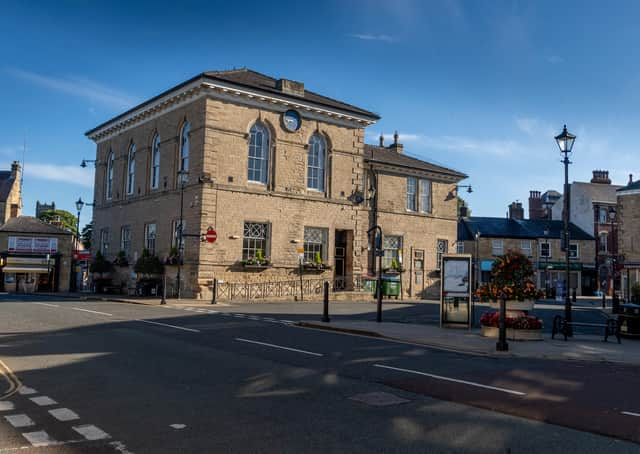 Wetherby Town Hall. Picture James Hardisty
On Monday, Prime Minister Boris Johnson announced that school pupils would return to classrooms on March 8, with March 29 seeing larger groups of up to six people or two households allowed to gather in parks and gardens.
April 12 is the proposed date for the re-opening of non-essential retail and outdoor hospitality businesses.
Indoor hospitality is planned to re-open on May 17, which is also the date when six people or two households will be allowed to meet inside.
And June 21 is the date when the Government is hoping to re-open all other sectors of the economy, and lift all remaining limits on social contact.
But all of these dates could shift depending on vaccine rollout and infection rates.
The Wetherby ward councillors Alan Lamb, Norma Harrington and Linda Richards have welcomed the announcement that might ease the restrictions put in place by Government.
They stated to the Wetherby News: "It is good news that there appears to be light at the end of the tunnel.
"However, we would stress that a measured and cautious approach must be maintained.
"Residents and businesses are more likely to accept restrictions for a little longer, on the understanding that when relief does come, it will be an enduring step forward."
They added that the return of schools from March 8 will be good for students. "Despite the excellent work done by teachers and parents/carers during lockdown, virtual learning is just not the same as actually being in a school environment," they added.
And the councillors said that it was time for businesses to prepare the town centre to welcome visitors again.
"Providing all goes to plan, businesses should now be able to chart their re-opening ready for the return of physical customers in stores and other premises," they said.
"Wetherby has always welcomed visitors to our beautiful and thriving town.
"We are now looking forward to building this even better for our town and communities in 2021.
"In the meantime we all have a crucial part to play in making this happen safely and to the planned schedule.
"Continuing to socially distance, and following the Hands, Face, Space instructions are vital in this roadmap."
"And we would encourage everyone to go for your vaccine at the earliest opportunity when you are invited for it."
The Government's roadmap on easing of Covid restrictions give major milestones as:
From March 8 - All schools will open with outdoor after-school sports and activities allowed. Recreation in an outdoor public spaces - such as a park - will be allowed between two people, meaning they would be allowed to sit down for a coffee, drink or picnic
From March 29 - Outdoor gatherings of either six people or two households will be allowed, including gatherings in private gardens. Outdoor sports facilities such as tennis or basketball courts will reopen and organised adult and children's sport, such as grassroots football, will also return
The second step from April 12 would see major parts of the economy permitted to reopen - non-essential retail, hairdressers and some public buildings like libraries, outdoor settings like alcohol takeaways, beer gardens, zoos and theme parks; indoor leisure like swimming pools and gyms; self-contained holiday accommodation, such as self-catering lets and camp sites
The third step will come from May 17 - if the data allows - and will see the "rule of six" abolished for outdoor gatherings, replaced with a limit of 30 people:
Two households can mix indoors - with the rule of six applied in hospitality settings like pubs; cinemas, museums, hotels, performances and sporting events reopen - though social distancing remains; up to 10,000 spectators can attend large outdoor seated venues like football stadiums.