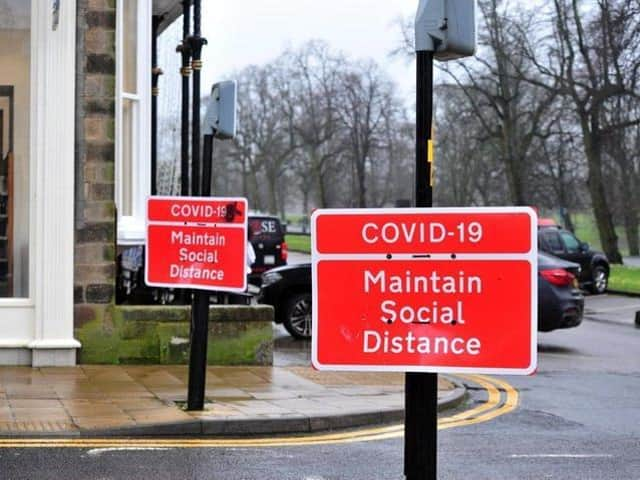 Harrogate's weekly infection rate per 100,000 people now stands at 72 - up from 12 this time last month.
With the Delta variant driving up cases across all seven of North Yorkshire's districts, Harrogate s weekly rate per 100,000 people now stands at 72 - up from 12 this time last month.
Louise Wallace, director of public health for North Yorkshire, told a briefing of the county's Local Resilience Forum last Wednesday that the variant first identified in India had become the dominant strain across the county with most cases among under 30-year-olds.
She added the virus appeared to be spreading fastest amongst the younger population as she also urged people to take up vaccines which have now been opened up to those aged over 21.
At the time of the briefing last week, there were zero Covid patients in Harrogate hospital but this figure has now risen to one with the admission of a single patient.
It has also been over two months since the hospital last recorded a virus-related death.
Unlike some areas of the country, North Yorkshire has yet to see another significant rise in hospital admissions with the numbers remaining low and only increasing slightly in recent weeks.
The hope is that these patient numbers will remain at manageable levels and that the extension of the last remaining lockdown restrictions by another four weeks to 19 July will allow more time for more people to get vaccinated.
Speaking last week, Richard Flinton, chief executive of North Yorkshire County Council, said: "We find ourselves remaining on step three of the government's road map out of pandemic restrictions, with step four delayed for a month.
"We can see the sense in this when we consider cases across North Yorkshire almost doubled in the last week to 45 per 100,000. While none of us wanted this delay, we must respond, as before, with confidence and care for each other.
"Be confident in the vaccine. Please, when offered your first or second jab, take it. This is our best defence against Covid-19. Also keep practising the basics – hands, face, space and fresh air – which are vital in keeping us safe."
Harrogate's latest infection rate of 72 cases per 100,000 people is just above the North Yorkshire average of 71 but below the same average figure for England of 93.
Elsewhere in North Yorkshire, Selby has the highest rate with 136 and Scarborough has the lowest with 22.
The ward areas in the Harrogate district with the most cases in the last seven days are Killinghall and Hampsthwaite with 17, and Harrogate East and Ripon North and West with nine each.
Meanwhile, more than 200,000 vaccine doses have now been administered in the district, with 112,412 people receiving their first jab and 95,138 their second.
By Jacob Webster, Local Democracy Reporter