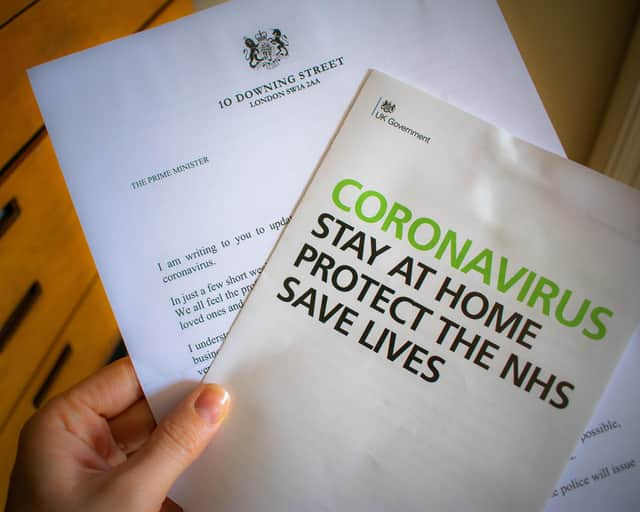 As of 14 April, the number of worldwide coronavirus cases has neared 2 million (Photo: Shutterstock)
We will be providing live updates until 6pm this evening.
Coronavirus live blog, April 14
Last updated: Tuesday, 14 April, 2020, 17:54
UK's economy likely to contract by 35%
The UK economy is likely to contract by 35% in the second quarter of 2020 before bouncing back quickly, if a lockdown remains in place for three months, with a three month period of a partial lifting, according to the Office for Budget Responsibility (OBR).
In the scenario, experts at the independent group told the Government that unemployment would rise to 10% of the working population, but will ease off later in the year, and public sector net borrowing is forecast to reach 15% of GDP making it the largest single-year deficit since the Second World War.
Starmer: Care homes on the front line of the crisis
Starmer: Care homes on the front line of the crisis
Rishi Sunak to hold today's daily press briefing
Chancellor Rishi Sunak is expected to hold today's daily press briefing at 5pm
More reports of arson attacks on phone masts
Another 20 suspected arson attacks against phone masts occurred over the Easter weekend amid concern about conspiracy theories linking 5G to coronavirus.
Among them was an incident in Dagenham, where two 19-year-old men and an 18-year-old man were arrested on suspicion of arson, as well as a fire in Huddersfield involving a mast used by emergency services.
The chief executive of Vodafone said one of the sites targeted over the weekend provides mobile connectivity to the Nightingale hospital in Birmingham.
"Burning down masts means damaging important national infrastructure," explained Nick Jeffery.
"In practice, this means families not being able to say a final goodbye to their loved ones; hard-working doctors, nurses, and police officers not being able to phone their kids, partners or parents for a comforting chat."
Rishi Sunak will be joined by Professor Stephen Powis, NHS England's medical director, and Professor Yvonne Doyle, from Public Health England at today's briefing.
As ever we will be providing live updates from the press conference.
Rishi Sunak is speaking now.
He says that the OBR's (Office for Budget Responsibility) figures are just a forecast.
He says the OBR predict a bounceback in growth and that economic hardships will be temporary.
He says the OBR was clear in saying if we hadn't taken measures there would have been greater issues for the economy.
He reiterated that whatever the NHS needs the NHS will get.
He says the latest figures are a reminder to stay at home in order to protect the NHS.
Professor Simon Stephens is speaking now.
Analysing data slides he underlines that it's important that we continue to follow social distancing instructions.
The trio are now taking questions.
On the use of out-of-hospital deaths in daily statistics Professor Yvonne Doyle says the government are working with ONS to speed up the process of delivering these numbers.
She says that it's important to make sure the correct cause of death is attributed.
On care home victims the Chancellor insists that they have not been forgotten in terms of support.
Simon Stephens then explains that because there are fewer hospitals it is easier to provide death figures on a daily basis.