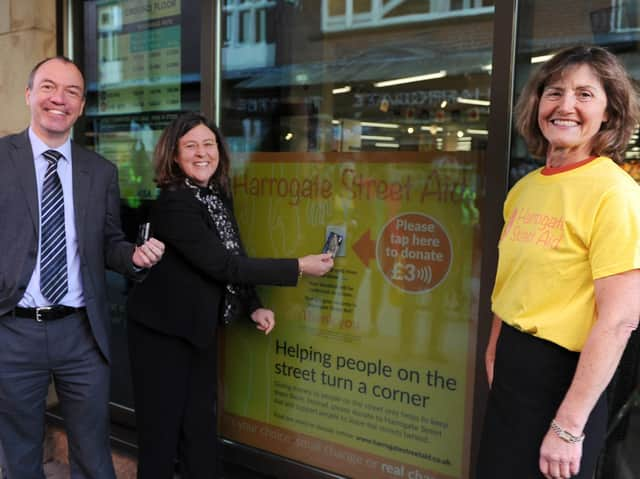 Harrogate Street Aid launch - Harrogate Borough Council leader Coun Richard Cooper; Julia Mulligan North Yorkshire Police Fire and Crime Commissioner, and Helen Richardson, the councils community safety officer.
But the organisers of Harrogate Street Aid are warning that some professional beggars may still be playing on the natural sympathy of the public.
The new initiative was launched after months of talks involving Harrogate Borough Council, North Yorkshire Police and Harrogate Homeless Project after concern by shopkeepers and residents over the rise of visible street begging.
The final straw for many was the temporary appearance of a 'mini tented village' in the town centre.
Helen Richardson, Harrogate Borough Council's community safety officer, said: "So far we've had 100 taps amounting to £300 and a further £586 donated on line plus three regular monthly donors set up, making a total of £886 total so far.
The first Street Aid contactless giving point was unveiled in late October at Marks and Spencers Food Hall window, inspired by the success of similar schemes in other parts of the country.
But the question of street begging has proven sensitive with Harrogate residents in the past.
The local authorities and charities who already provide services in this sector point out that Harrogate already offers each and every homeless person who wants help an extensive range of support.
The fear is that giving spare cash to street beggars may actually help sustain dehabilitating addictions rather than turning lives round permanently.
Concern has now arisen that 'professional beggars' in Harrogate town centre are now playing on the generosity of elderly people, in particular.
It is expected the first applications for grants of up to £500 to assist individuals to get off the streets, and, keep them off, will be assessed in January by charity Two Ridings Community Foundation which will act as the hub.
The latest city to set up a Street Aid scheme is York which launched its own version last Friday on much the same lines as Harrogate and Cambridge.