School gains science award for teaching
Queen Ethelburga's Collegiate (QE) is celebrating all things science after Chapter House, QE's Early Years, infant and junior provision, has been awarded the Primary Science Quality Mark (PQSM) Gilt.
Wednesday, 23rd June 2021, 12:27 pm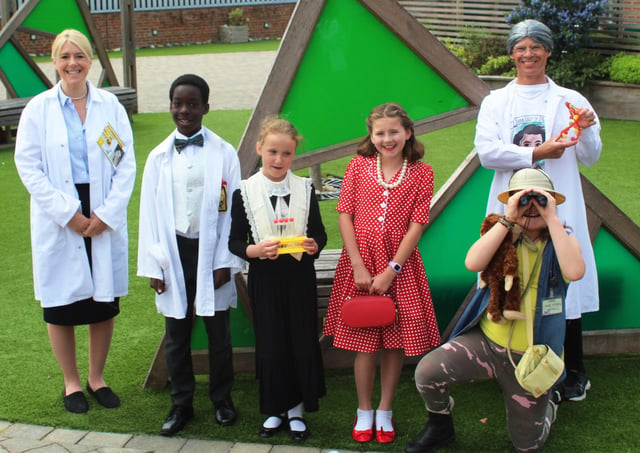 This accolade is given to schools who can demonstrate how science leadership is having a sustained impact on teaching and learning within a school.
As part of a half-term holiday project, QE's Chapter House students spent time researching their favourite scientists, preparing a costume and or prop to present in class.
These ranged from a host of male and female scientists both historical and present day such as Sir Isaac Newton, Marie Curie, Rosalind Franklin and Dian Fossey.
Children and staff spent the day last Friday dressed as Scientists and took part the whole-school investigation 'Can the tallest person throw the farthest?'
Karen Kilkenny, Head of Chapter House, said "I am so proud of what has been achieved by the teachers, through the enthusiastic science leadership of Dr Walker.
"The feedback given to the school highlighted how this collaboration has resulted in an exciting child-friendly vision for science, with children's voices being at the heart of the development of science within Chapter House.
"Even when working remotely this year, staff have found new ways of igniting a passion for science in the children and the high-quality science lessons have promoted curiosity and independent learning."
Pre-Covid, Chapter House pupils enjoyed visits from STEM Ambassador Experts Race for the Line, welcomed parents that came in to talk about their science-related careers and took part in 'Restart a Heart', teaching the children how to perform CPR.
During lockdown, the pupils continued with remote links made to farmers through Face-Time, encouraging reading from the Royal Society Young People's Books Prize and entering the British Science Week's poster competition.
Pupils regularly take part in other whole-school science investigations such as 'Can the person with the largest hands grab the most sweets?'
Launched in 2010, over 4000 have gained PSQM.