Rotary club laptops gift to village schools
Knaresborough Rotary has donated five laptops each to Scotton-Lingerfield and to Staveley primary schools from a legacy left by a local teacher and some members.
Monday, 26th April 2021, 3:10 pm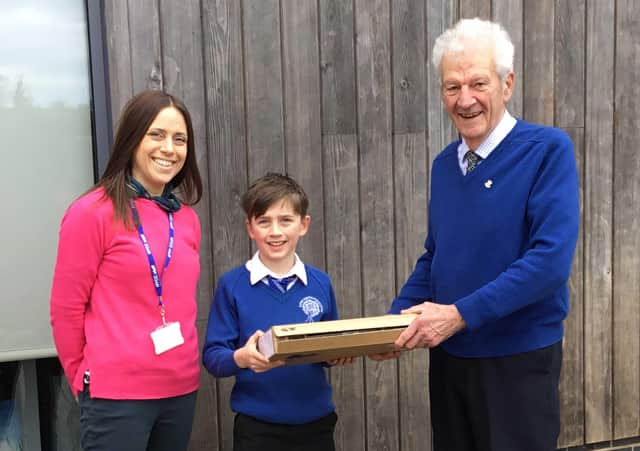 The Rotarians have swelled the number of devices in total donated to local schools since last November to 40.
Scotton-Lingerfield Headteacher, Debbie Calvert said: "We received a lovely surprise when we learnt that Knaresborough Rotary Club were donating five new laptops to the school.
"This will make a huge difference to the children's learning. We are very grateful for this kind gesture."
At Staveley School, Mrs Roberts, Class teacher and Computing Lead said: "The children at Staveley School were delighted to receive their new Chromebooks from Knaresborough Rotary Club
"The children in school have recently started using Chromebooks and Google Classroom to enhance their learning.
"These additional devices are wonderful to have and will ensure that more children can access technology as a daily part of their learning routine.
"At the moment, we are having to share a set of Chromebooks between the classes, so we are extremely grateful to have received this generous donation which will make a massive difference to our children."
Finance for the devices has come mainly from a legacy from the late Alan Waugh, a teacher who lived in Knaresborough, but also from individual Rotarians. Knaresborough Rotarian Ian Watson presented five new laptops to Scotton-Lingerfield school where his daughter-in-law is a Classroom Assistant and his grandson a pupil.
Spokesman for Rotary, Brian Souter, said, "We negotiated a deal with Curry's PC World, who are supporting the project.
"We are happy to receive donations from anyone who would like to support our community projects".
Donations can be made direct to Knaresborough Rotary Club by bank transfer at 60-12-26 and 76307557 or by sending a cheque to Knaresborough Rotary Club, Wharfedale, Arkendale Road, Staveley, HG5 9JX".
Knaresborough Rotary is currently meeting online.