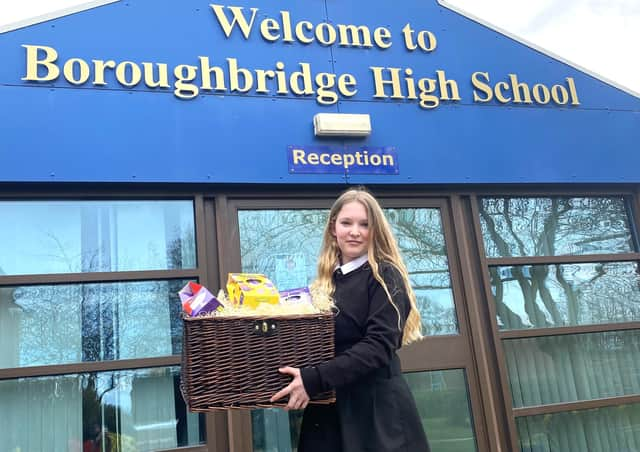 The competition set by Yorkshire housebuilder, Miller Homes, aimed to get the future generations of Boroughbridge to contemplate what makes the town their home and why it is a special place to live.
Children from years 5 and 6 at the primary school, and years 7 and 8 at the High School took part, with some amazingly creative verses being submitted for consideration.
"We were staggered by the quality of poems submitted and choosing a winner was a real challenge," said Sarah Whinfrey, Regional Sales Manager, Miller Homes Yorkshire.
"To keep with the local theme, we enlisted the help of one of our residents at our Milby Grange development in the town, Mel Evans, who kindly chose the winners from our shortlist."
Kaela, from Boroughbridge High School, impressed Mel and the Miller Homes team with her poem featuring The Three Arrows, a series of standing stones on the outskirts of the town, the arrival and purpose of which is still debated to this date.
The poem's chilling ending… "On the last turn I stopped and turned but she was gone" really captivated all who read her work.
At the primary school the Year 5 winner, Jack, told of 'Beautiful Boroughbridge', mentioning 'amazing walks and friendly people'.
Whilst Aiden, the Year 6 runner up, and Josie, the Year 6 winner, referred to Boroughbridge as 'What a wonderful place to be' and 'I love Boroughbridge, I love living here'.
"Boroughbridge really is a wonderful place to call home and we have seen a notable increase in the amount of people viewing and purchasing our homes from the surrounding areas of York, Ripon and Harrogate as they seek a more rural lifestyle in spacious homes that are competitively priced," said Sarah.
"Our sincere thanks go to the students and the schools for helping us to capture what it means to be a resident of the town."
The winners' poems will be framed and displayed in the sales centre at Milby Grange and each of the primary winners were presented with their own Cadbury chocolate cottage, whilst Kaela received a Cadbury hamper just in time for the Easter break.