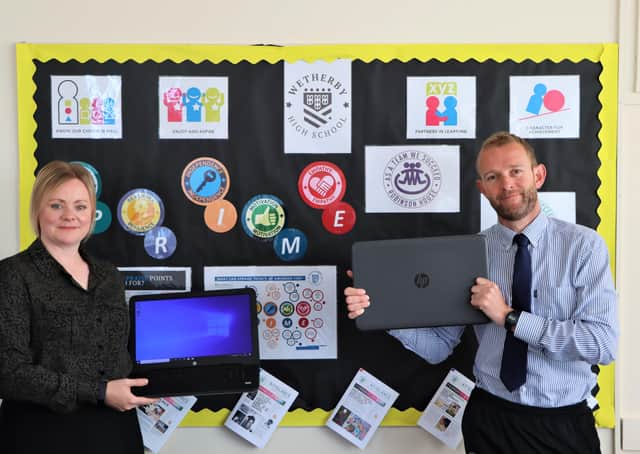 The laptops bought with the donation made by Claritas Solutions will be given out on short term loan to any student who would need to isolate due to a positive Covid-19 test either from themselves or from a close contact.
The laptops will be then given to the school's SEND department allowing the children within the department the opportunity to access their learning further in the classroom and at home.
Gareth King, Assistant Head at Wetherby High said: "Since March 2020 we have been through two lockdowns where children have had to access school via online learning.
"Despite support from the government, we have still found a deficit in the numbers required to give all children this opportunity.
"This has certainly been the case during the second lockdown, where younger siblings were also requiring electronic devices to access their school work and resulted in families having to share one device.
"This kind offer from Claritas helps us as a school stay true to our school values 'Know our Children Well', ensuring no child is left behind due to circumstance out of their control."
Claritas Solutions is an IT services and solutions company based in Wetherby, that has been servicing UK clients for 24 years across a wide range of industries. Services that Claritas offers include IT Support, security solutions, software design, hosting and connectivity.
Jenny Lloyd, Operations Director at Claritas Solutions, said: "As a Wetherby based business we wanted to support a local school.
"Wetherby High School is located close to our office and some of our staff used to attend the school in the past.
"During the pandemic we've seen a huge divide, across the country, in pupils who have laptops at home and those who don't, and as a business, we believe, just like Wetherby High School, that no children should be left behind due to circumstances out of their control which is why we wanted to help in this way.
"We are delighted that these laptops will be valuable to the school throughout the pandemic and beyond."