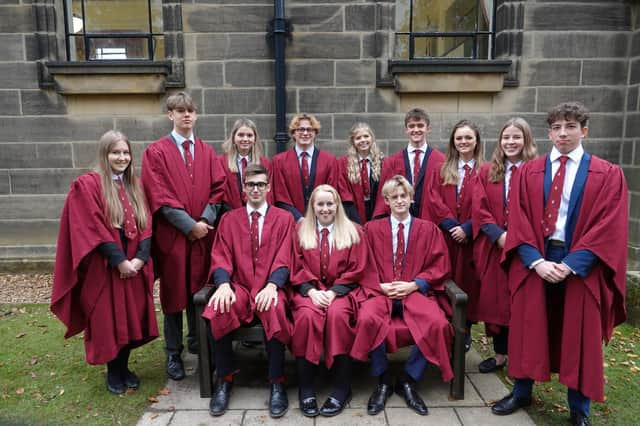 These are key positions of responsibility for Sixth Form pupils who want to take more of an active role in day-to-day school operations and act as role models for pupils in the younger year groups.
Niamh Boyle and Massimiliano Ernesto Nobile have been named as Joint Heads of School and will be supported by ten Red Tie Prefects.
The Heads of School represent Ashville pupils, participate in assemblies, meet with Governors and speak at important school occasions.
They are also a point of liaison with the Headteacher and the rest of the Sixth Form body.
The Red Ties also play an integral role in the day-to-day running of the school, working closely with the Headteacher and the Head of Sixth Form.
They are Becky Mitchell, Archie Wild, Ella Whiting, Kit Keith, Abigail Guest, Harvey Homer, George Prentis, Ellie Brown, Lily Dobson and Elliot Isaacs.
Niamh, a pupil at Ashville since Year 3, said: "I was thrilled when I found out I'd been appointed; it was unexpected, particularly as there was such strong competition.
"I applied because I wanted to give something back – I've been at Ashville since I was seven years old and this is my way of saying 'thank you'.
"I've done a lot of charity work personally, so I'd really like to organise some charity fundraising as part of my role. I know it's hard to plan events at the moment but we will find a way to get all pupils involved, and safely.
"As Heads of School we want to prove we're different and as good as our predecessors, particularly during these challenging times, at representing the School and being here for other pupils. We want to seize opportunities, rather than just see obstacles."
Massimiliano Ernesto, who joined Ashville in Year 8, said: "I was ecstatic to be named as one of the Heads of School and my parents are really proud of me.
"I'm looking forward to getting to know other pupils, being here for them, and acting as a role model.
"We want other pupils to know who the Heads of School are and how to reach us. The Heads of School, and indeed all the 'Red Ties', are approachable and personable and are here to support you."
Both Niamh and Massimiliano Ernesto described the process of applying to be Heads of School as "like a real job interview", saying the experience, as well as the achievement of being appointed, will help to prepare them for both their future studies and the world of work.
Eliot Rintoul, Acting Head, Head of Sixth Form, and Digital Learning Lead, said: "Both Niamh and Massimiliano Ernesto are fantastic ambassadors for the College, and I know they will diligently discharge the duties of their office.
"The selection process for Heads of School is a very rigorous process, and those applying are put through their paces.
"I'd like to congratulate them both on the way they have conducted themselves so far, as well as the ten Red Tie prefects who will be assisting them during their year in office."