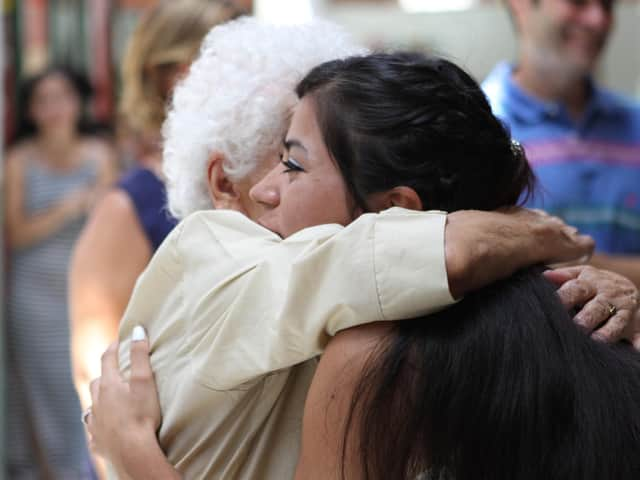 Cuddles and hugging are great for your health and wellbeing, says Harrogate's professional cuddle therapist, Rebecca Jean.
Rebecca Jean, whose background is in the creative, collaborative arts and community volunteering, said she had learned the importance of human connection thanks to a time of significant trauma.
And after setting up 'Heartfelt Hugs' she believes everyone can gain from simply not being afraid to hug.
Rebecca, who is also an author and a freelance worker in the film and TV industry, said: "After four deaths in my family, I desperately needed someone to hug and nurture me, but my family were also grieving.
She said: "I didn't want to break down in front of my children and exacerbate their grief.
"I needed to be strong for them but I also needed to be held and comforted through my grief."
While cuddle therapy is one of the newer complimentary therapies, it is quickly finding a home in the UK.
The mother-of-two, who has lived in Harrogate for 18 years, trained with Cuddle Professionals International, one of the lead trainers in the industry before launching www.heartfelthugs.co.uk.
She says the benefits of cuddling go beyond simple, comforting human interaction.
The growing band of cuddle professionals in London, Huddersfield, Manchester, Newcastle and, now Harrogate say it can reduce blood pressure and pain, improve circulation, appetite, mood and emotional well-being and overcome self-confidence issues.
Rebecca, who hosts her cuddle sessions mainly at The Serenity Centre in the Montpellier Quarter of Harrogate, said she had struggled in the past with her own self-confidence issues.
She said: "At one point in my life, I was single and working a stressful job that kept me travelling regularly. I didn't have time for a social life.
"My family lived across the country and my friends were raising children.
"It didn't help that I struggled with shyness at the time. I craved human connection and would have paid anyone to just sit and talk to me.
"In these circumstances, hugging a stranger would have been just as cathartic for me as hugging someone I knew."
Hugging a stranger may seem a very intimate thing to do but Rebecca says it should be regarded as a comforting, platonic act, much like a parent cuddling a child."
Even so, she says she realises it takes bravery at first to take part, especially for someone who is touch averse.
She said: "Hugs are intimate, not merely because of the physical closeness but because it takes trust and courage to allow yourself to be held.
"But a session is similar to how a parent nurtures their child. It's comforting, but in no way romantic or sexual in nature.
"In hugging anyone other than a close family member (or your pet!), you generally place yourself in a position of vulnerability.
"But if you can view the session as therapeutic and beneficial to your health, then you should be able to hold your therapist and allow yourself to be held.
"I often describe a cuddle therapy session as being akin to the way a parent cuddles their child."
Should accidents happen and arousal become an issue, Rebecca takes a level-leaded and non-embarrassed approach to the situation.
She said: "Arousal is natural and nothing to feel embarrassed by.
"But because cuddle sessions are purely platonic, we will simply refocus the session and change positions accordingly."
By the time she decided to take the plunge and become a trained therapist in cuddling, Rebecca had already overcome her own fear of hugging.
The final trigger for the launch of her new career was when she came across a cuddle workshop advertised on Meetup and decided to attend a session herself.
She said: "As someone who loves giving and receiving hugs, it didn't take long to convince myself to train as a cuddle therapist. Attending a cuddle workshop confirmed that for me.
"Here I was in a yurt near York among four nervous, would-be cuddlers, ranging in age from their 20s to their 70s.
"The organiser guided us in finding our boundaries and exploring various cuddle positions.
"I really enjoyed it all. It was a memorable day of laughs, hugs and honouring others."
Not everyone, of course, feels so bold and may experience initial reticence towards hugging.
Many people don't have family or friends in their lives to hug.
Or if they do, their family or friends may not live physically near enough to share hugs on a regular basis.
Or it may be that the level of affection and/or emotional connection isn't strong enough for what they require
Or sometimes, situations within families or friendships can temporarily cause emotional distance. There are many reasons people turn to someone else for a cuddle.
That is where a cuddle professional comes in.
Despite the job title, it also seems a cuddle session does not have to involve cuddling.
Rebecca said: "A cuddle session doesn't have to be filled with cuddles.
"Depending on the client's preference, the session may include talking, holding hands, eye gazing or stroking each other's hair or arms.
"It's not meant to make you uncomfortable, but to make you feel cared for."
For anyone wondering what to expect at one of her sessions, which also take place at Wellspring House in Starbeck, cuddles take place on a sofa and a variety of cuddles may be experienced.
Rebecca holds everyone in the same nurturing, non-judgmental space regardless of gender, race, sexual orientation or age, though she does stress that she is unable to see clients under the age of 18.
Oh, and in terms of what to wear, a minimum of a T-shirt and long shorts are required or exercise clothing.