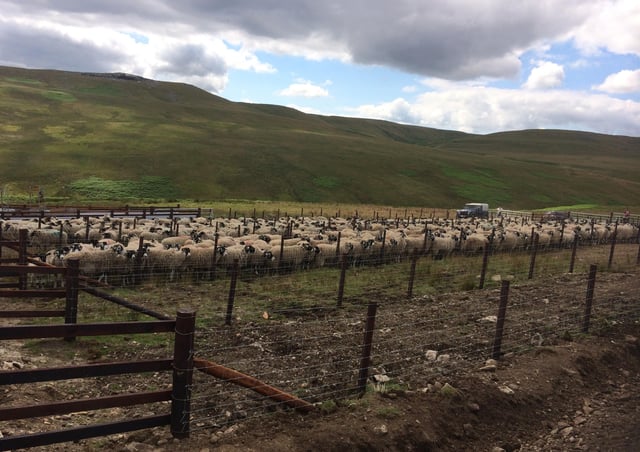 I actually prefer clipping sheep to driving a tractor.
The end of June was my brother's 21st birthday. It was a bit different to what he had planned due to the Covid-19 restrictions but I think he still enjoyed himself.
The day before his birthday we had two round balers working in the morning to get all the silage out of the way, then in the afternoon we had the little square baler gathering hay, and also the forager at tea time to take a second cut.
Everyone wanted to be working on the same day, but we did manage to get it all done before the thunderstorm on Friday.
We haven't done any silaging since as the forecasters were giving this week as a decent week, but it isn't looking too good now, so I don't know when we are going to be doing some again.
This last weekend, we sorted our first packet of fat lambs out from York, they weighed over 41kg so will hopefully add up well.
We only took 30 to see how they grade because when they are still on the ewe, and they also can grade differently to when they have been spained and are based on just grass.
Some of the lambs are just over three months old, which just shows that if they are on the right land they can fatten easily.
It can be done in Nidderdale, but sometimes they need a little bit more to give them that extra cover with a creep feed.
However, they haven't had any cake at York.
With this patchy weather, it has allowed us to get some more sheep clipped.
We clipped some of the sheep at home earlier on in the week and we travelled to Beckwithshaw to clip yesterday.
We clipped over half of them but then were rained off – it was maybe a good job that we did because the next few days are going to be hectic.
My dad, Luke and I clipped them.
I prefer clipping to driving a tractor, but they all think I'm stupid for saying that.
I am writing this column just before we set off to gather High West and Lodge moor (Monday afternoon) ready to sort them out tomorrow morning and, hopefully, we will manage to get them clipped before it rains again.
I think we will be clipping them in the waterproofs if it starts to rain before we get finished.
It saves so much time if we can get them clipped at the moor because we can get them done in the length of time it takes us to walk them to and from the moor.
We don't have that many sheep left to clip once we have done the moor ones, just the moor twins to do and the ones that we didn't get done at Beckwithshaw.
It looks like we should definitly get them all clipped before the end of July
Normally we are trying to finish clipping them on the last day or two of the month.