The Farming column with Frances Graham: Left at home as dad heads to the sales
Well today has been far different to what should have happened – it should have been show day (Nidderdale Show) and with the weather that we have had it would have been a good one.
Wednesday, 23rd September 2020, 3:18 pm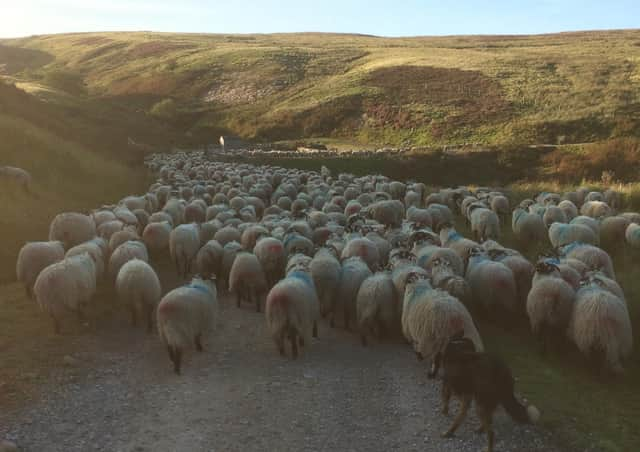 The sheep were slow, which they can be at this time of year, as we gathered them up.
But with things still cancelled and everything changing due to coronavirus the next few weeks are certainly going to be different with all the tup sales coming up.
Only my dad will be able to go because of the restrictions in place to reduce the risk to ourselves and other people.
Since all the shows have been cancelled the Dalesbred Sheep Breeders association has just held an online photo competition, with most of the classes that would have been at the shows.
I managed to enter a Dalesbred gimmer lamb and also our two Shearling tups, but they are yet to be judged, so fingers crossed!
On Friday afternoon was the annual gimmer lamb sale at Pateley Bridge Auction, which normally myself, grandad and sometimes my brother go to.
However, this year we all got them ready at home but we had to stay and just our dad went to show and sell them.
It certainly felt a bit different not able to go to the auction to clean them up and see everyone's hard work with all the lambs. This year we sold just 40 Dales Mules because we bred some more Masham gimmers for replacements as all of our Masham ewes are getting on a bit.
My brother trimmed all the Dales Mule lambs up the other weekend, a time consuming job that at times you wonder is it really worth it.
I jabbed them with their second jab of Heptovac P last week and also scratched them for Orf. We sorted them into the pens on Friday morning and marked them up for each separate pen, tagged and washed them, and we managed to get it all done before dinner on Friday.
We got second place with our Dales Mules, we had a better average than last year, everything was up £20 a head.
Stock is making so much more than last year, with Brexit being the reason for so poor prices last year – but this year when Brexit is happening and its never been mentioned.
There was also a change this year at Pateley Bridge Auction, now Barnard Castle Auction, is running it and the prices and stock numbers keep increasing, I think that auctioneer Libby has certainly put Pateley back on the map.
We finished spaining a couple of weeks ago with the moor sheep being the last.
The weather wasn't on our side for a couple of days, it was thick fog on Great Whernside, so we couldn't set off.
There is no point setting off gathering when you can see fog on the tops because most of the time it comes in once you get up there.
We left it until the Wednesday which was a glorious day, there is no one to bother you, no traffic just us, the sheep and the dogs.
My brother was pleased to have a change from driving a tractor and I was pleased to have a good run around the moor.
The sheep were very slow, but they can be at this time of year because of the extra lambs due to the twins being out as well.
We brought all of our sheep and lambs home and managed to get them back before it came dark.
We dipped all the ewes and lambs and kept all the lambs and drafts (four Shear) ewes at home so that we have the correct number at the moor. Because the hoggs become part of the count now, they aren't an addition any more to the number of ewes.