Calf birth announced in The Times
A Ripon-based meat company announced in the Times newspaper the birth of twin Dexter calves - Prince and Charles.
Friday, 11th June 2021, 10:44 am
Updated
Monday, 14th June 2021, 9:18 am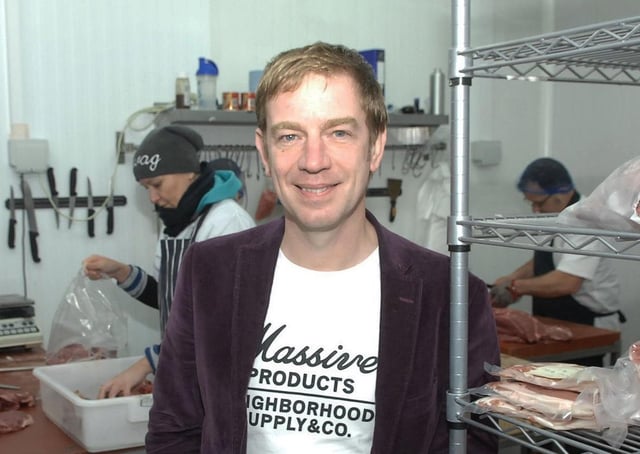 John Pallagi CEO of Farmison and Co.
Stuart Raw, who farms in Castle Bolton, increased his rare breed Dexter herd from just eight cattle in 2018 to more than 150 with the new arrivals.
Farmison and Co founder John Pallagi and Mr Raw were present for the birth of the Dexter twins which were named in honour of His Royal Highness the Prince of Wales for his steadfast support of heritage breeds and sustainable farming.
Each weighing around 55lbs, the calves and their mother are doing well. All pedigree Dexter born at Castle Bolton are registered with the Castle Bolton Dexter herd.
Mr Pallagi said: "It was an honour to be present at the birth of our new Dexter twins and to support one of our British small-scale farmers who do right by the land.
"Farmers like Stuart who care for their animals properly are the cornerstone of the countryside.
"This kind of production, in balance with nature, stands in contrast to the impending Australia-UK trade deal which could leave our best farmers facing an existential threat because of the government's apparent willingness to accept free access to cheap meat from Australia.
"Cheap meat is anything but, if it's brought from halfway around the world."
The addition to the Dexter, the smallest breed of cattle in Europe, herd comes just a week after the Ripon-based company bought a herd of White Park cattle – the symbol of the Rare Breeds Survival Trust with their distinctive wide horns.
The conservation grazing, which is the hallmark of meat reared for Farmison & Co, puts nutrients back into the soil and enhances biodiversity, while also enriching the nutritional profile of Dexter, known for its gamey, mellow and sweet taste.
Farmison has built up a nationwide customer base for its heritage breeds beef, including Red Poll, Aberdeen Angus, Shorthorn, Galloway, Dexter and Sussex.
Mr Pallagi appeared at the All-Party Parliamentary Group for Farming's session, "In Defence of Red Meat", on June 9.
Earlier this year, Farmison reported that annual revenue for 2020 had more than doubled to £12.1 million, including sharp growth in e-commerce sales. As well as its own direct customers, it sells to wholesale customers including Harrods, The Ivy and the National Trust.
It now employs more than 100 people at its base in Ripon and supports up to 30 farms across Yorkshire and the north of England.