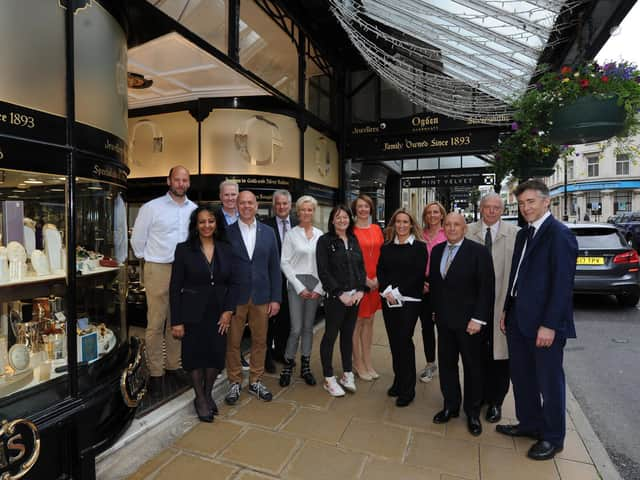 Some supporters of business-formed pressure group Independent Harrogate which now had members on the Harrogate BID board.
After losing both its manager and chairman amid criticism of progress on tackling problems in the town centre, hopes are growing Harrogate Businesss Improvement District can forge a new direction with an estimated five-year budget raised from a levy on local businesses.
Pressure group Independent Harrogate was delighted to see two of its members become directors in the recent BID board ballot.
It says it is now confident that in the year ahead BID can work with all the relevant organisations to offer signicant support for businesses in the town centre.
Writing on its website, Independent Harrogate said it had enjoyed positive talks with Harrogate and District Chamber of Commerce over the idea of a 'Town Team' of all the talents to revive the retail sector.
Independent Harrogate said: "We have two Independent Harrogate directors on the BID board, Robert Ogden and Bob Kennedy, together with Chris Bentley, the landlord of a number of shops in the town centre and Mark Young of The Ivy who have been actively helping us, plus Rob Spencer of Townhouse and Sara Ferguson of Sasso.
"We have had meetings with other newly-appointed directors, and some 'old' ones who are still on the board.
"We know that there are now a substantial number of directors of BID who hold very similar views to us about the need to use the levy money more effectively to help transform the fortunes of the town.
"We have also had a meeting with the Harrogate Chamber of Commerce and we are pleased to report that we and they seem to be in total agreement that we need to work as fast as possible towards a 'Town Team' of all the talents, ideally with BID and its funds at its core.
"We are cautiously optimistic that this is now closer to becoming a reality."
One of the first acts of the new Harrogate BID board when it meets next Thursday will be to choose a new chairman to replace John Fox who has stepped down.
Job losses in retail in UK in 2019
According to data provided by the Centre for Retail Research (CRR), more than 2,750 retail jobs were lost every week in the UK in 2019.
And it predicts the picture will worsen in 2020 with high business rates one of the factors blamed.
The retail sector still employs around three million people in total across the country.