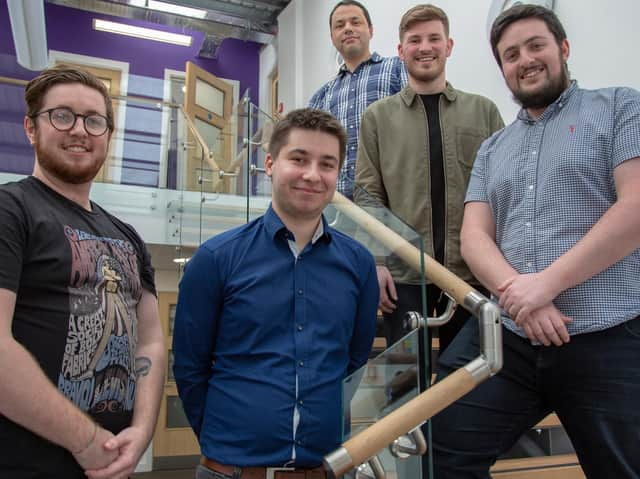 Harrogate Film Festival founder Adam Chandler, second from left, with his team at Reel Film Media Ltd.
Making independent movies shot in Harrogate and the surrounding area has become common place in recent years.
The work of independent filmmakers such as Velton j Lishke, Henry Thompson, Lewis Robinson, Sam Hartshorn and Joseph Simmons, often these are short films but, occasionally, full feature films have been produced on the streets of Harrogate.
The rise of 'Harro-wood' has been accompanied by the success of Harrogate Film Festival and Harrogate Film Society.
While the latter is one of the most popular such groups in Yorkshire, the former has become one of the hottest small film festivals in the UK and this year will expand to ten full days.
Founder Adam Chandler, who first launched the annual March event in 2017, said working with others and encouraging emerging talent was the key.
Mr Chandler, who runs his own independent business Reel Film Media Ltd, said: "Harrogate Film Festival has the vision to be one of the most respected, agile and well-attended events on the film festival circuit by 2023.
"The festival is intent on working with local businesses and institutions to be a success, using the power of local independents and people to make the festival the best it can be."
The film maker and family-friendly festival has seen year-on-year growth in its first three years, prompting the decision to increase this year's to nearly two weeks this March.
Mr Chandler said: "Starting from the blank canvas, the festival has now had near 4,000 people attend events and has grown from a nine event, three-day festival in 2017 to a 30-plus event, ten-day Festival for 2020.
"We've become critically-acclaimed within the industry, spring-boarding emerging talent and creating never seen before innovative events and experiences that people love."
Having attracted international names in the past such as award-winning documentary film maker Mark Cousins, this year's will see legendary British actor Brian Blessed make a personal appearance.
Based in venues across Harrogate, including Everyman, Harrogate Film Festival 2020 will run from March 6-15.
The Festival holds three main types of events. The independent filmmaker's competition is now a well-regarded short film competition on the market, having had over 2000 submissions from over 60 countries in it's time, the Festival screens shorts in different genres such as drama, comedy and documentary.
Filmmakers have attended the Festival from the UK, Spain, Italy, France and as far as Canada.
The Festival has truly found a home for this competition at luxurious Everyman Harrogate.
They also hold 'Experience Events' and 'Pop-up' cinemas. Typically, mainstream film experiences, taken out of the cinema. Previously they've held "Night at the Museum" at the Royal Pump Room Museum, "Shaun of the Dead" at Hales Bar – with zombies - and "Bond Night" at Cardamom Black, complete with casino tables and a three-course meal.
These events are designed to be supportive of Harrogate's independent businesses, although they have also worked with bigger brands on events.
Audiences are encouraged to 'join in', have some fun and relax in immersive experiences.
Finally, the Festival has an educational and informative side holding workshops, competitions and talks.
These are designed to provide a platform to emerging talent, upskill local filmmakers – and those with a passion – whatever the age.
Previously working with industry names such as storyboard artist from Shaun the Sheep, David Bunting.
They have also held talks and panels with professional bodies and filmmakers, previous supporters include critically acclaimed filmmaker Mark Cousins – and in 2020, Brian Blessed. Companies include Screen Yorkshire, The LEP, Everyman Cinemas and Leeds 2023.