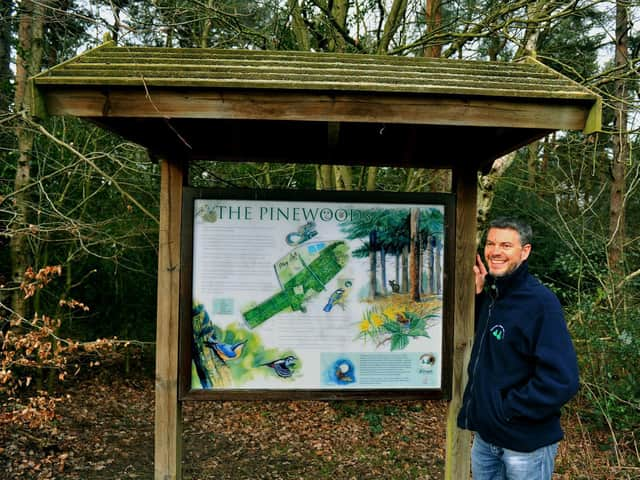 Neil Hind, chair of Pinewoods Conservation Group, which recently published its own rival Ecology Report into expansion plans by Harrogate Spring Water at Rotary Wood.
After months of battling against the planning application by award-winning Harrogate Spring Water to expand its Harlow Moor Road site, the residents group says it will halt its protests until a new date is set for the council meeting which will decide the fate of the top firm's plans to remove up to four acres of woodland at Rotary Wood.
Pinewoods Conservation Group recently published its own rival Ecology Report outlining the full impact of the planned development of Rotary Wood in opposition to the Harrogate Spring Water commissioned report undertaken last year which has been submitted to Harrogate Council as additional information to support the objections.
The planning meeting to consider the Rotary Wood development by Harrogate Spring Water had been scheduled to go to the Planning Committee on March 31.
Such has been the controversy over an expansion seen by leading bottled water brand Harrogate Spring Water as essential to its very future, the meeting had already been rearranged by Harrogate Borough Council until April 21.
But that meeting, too, has been postponed until further notice by the council as part of the coronavirus shutdown.
The statement issued recently by Harrogate Borough Council said:
"It has been agreed that all Council and Committee meetings for the foreseeable future will be postponed with immediate effect in line with government advice relating to Coronavirus Covid-19.
"We are anticipating that the government will be issuing guidance in relation to the conduct of Local Government business in the very near future, and once we have more information and are confident that the decision making process can take place safely, we will seek to re-instate/rearrange any meetings which have been postponed."
Following the cancellation of its AGM and its planned Easter Egg Hunt and Litter Picks, Pinewoods Conservation Group has now decided to suspend further campaigning and will advise on next steps when the meeting is re-scheduled.