Knaresborough BID plans summer launch as business leaders hope for rapid recovery from Covid-19
The business leaders behind Knaresborough BID have expressed hopes of a rapid recovery from the coronavirus pandemic when the body launches later this year.
Monday, 8th February 2021, 6:09 pm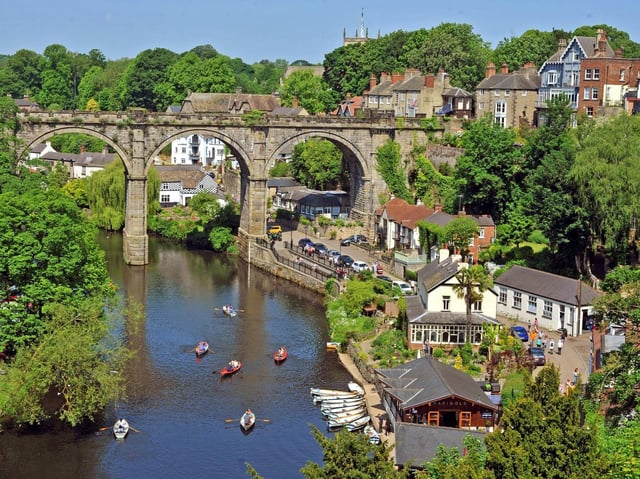 Knaresborough BID has won financial backing from Harrogate Borough Council.
Talks of turning the town centre into a Business Improvement District (BID) - where firms contribute cash towards initiatives - have been held for more than two years but progress has been slowed most recently by the ongoing lockdown.
William Taylor, project lead of Knaresborough BID, said there are now plans to launch the business body by July when it is hoped the town will enjoy a summer rebound from Covid-19 as the nation's vaccination programme continues to hit targets.
Mr Taylor said: "Lockdown has made it really difficult for us to engage with businesses but we are hoping by June we will have finalised a ballot.
"When the first lockdown ended last summer Knaresborough came out flying. We are hoping that this will happen again and the BID will help with events, marketing promotions and generally just bigging up the town."
If the BID wins the backing of businesses through the ballot process, an extra levy will be charged on top of business rates to fund projects to improve the town. It is estimated that almost 380 businesses in Knaresborough could contribute to an annual budget of more than £150,000.
Mr Taylor said the town had a history of being "undersold" by the district's marketing bosses but added the BID would tackle this with campaigns to attract new visitors and encourage overnight stays.
"Knaresborough is very undersold and there is a feeling that there has never been a marketing strategy for the town but we are hoping to fill that void," he said.
"We want to change the perception that Knaresborough is somewhere you visit for just two or three hours and instead have it seen as a base of operations to explore our beautiful surroundings.
"York and Harrogate are often seen as the places to go, but Knaresborough also has so much to offer."
Plans to launch the BID have already won the backing of Harrogate Borough Council which last week approved a £27,000 loan towards the set up costs. The loan will be paid for from the council's reserves and repaid if businesses signal their support in the ballot.
Speaking at a meeting last week, councillor Phil Ireland, who represents the Knaresborough Aspin and Calcutt ward on Harrogate Borough Council, said:
"Supporting the Knaresborough BID will help the council aims of the economic growth strategy and public realm improvements to Knaresborough town centre. The BID could also enable enhancements to community safety initiatives and events in the area.
"The development of the Knaresborough BID is an example of businesses coming together to make positive changes to Knaresborough town centre for the benefit of all."
By Jacob Webster, Local Democracy Reporter