IN THE COMPANY OF: Steve Partner, managing director of Harrogate Private Hire Cars Ltd, who is keeping schtum about his famous customers
Q: In a nutshell, what does your company do and how did it start?
Thursday, 24th June 2021, 5:49 pm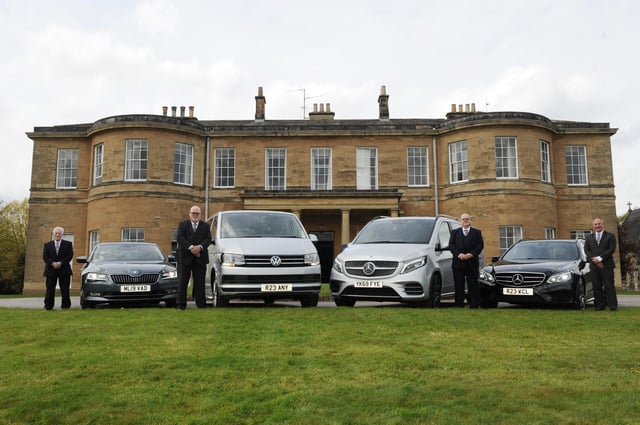 Steve Partner, managing director of Harrogate Private Hire Cars Ltd with some of his drivers at Rudding Park. PHOTO: Gerard Binks.
A: We're a private hire chauffeur service based in Harrogate I've been in the business 25 years, starting as a local taxi driver.
I branched out on my own as a sole trader in 2004, specialising in airport transfers and long distance. Harrogate Private Hire Cars was founded as a limited company in 2014.
Q: What's the most surprising thing about it?
A: We aim to surprise our customers with the level of professional service we offer.
A: I'm the managing director and owner, so I oversee the running of the company – along with my secretary Sonia, who I'd be lost without!
All our drivers are licensed by Harrogate Borough Council, so I oversee their training towards this, as well as onward training to meet our own high standards of customer service.
Q: How did you end up here?
A: I worked as a local taxi-driver for nine years, before moving into the private hire chauffeur industry. It's a niche market in which bespoke customer service is paramount.
I specialise in long-distance travel, such as airport transfers, special occasions, business trips, tours – anywhere you need to go for business or pleasure, we can look after you! It's certainly very different work to the short trips I used to make as a taxi driver, and I enjoy it more.
Another difference is that the work is booked a long time in advance, so you know what you'll be doing ahead of time. Our drivers appreciate that.
Q: If you weren't doing this, what would you be doing?
A: My first job was as a UK-based long-haul truck driver, so I guess I'd still be doing that!
The last job I did was transporting beer for John Smith's in Tadcaster – 25 tonnes of ale on board and you can't touch a drop!
Even though it's very different to working as a chauffeur, I still prefer long-distance driving.
A: Providing an exceptional service to my customers, and continually looking to improve and add new services.
We're in the early stages of looking at providing an international service for holiday travel: perhaps planning a road-trip, incorporating hotel stays, sharing local knowledge.
Owning my own business means there's great scope for developing new ideas and making them a reality.
Q: What one thing do you wish you had known when you started out in business?
A: Admin and record-keeping! Initially I was doing it all on my own, and you don't realise how much is involved, especially when you start taking staff on.
Friends with their own businesses warned me, but I didn't think it would be as intense as it was! That's why I'm so thankful for my secretary Sonia now.
Q: What excites you about business?
A: Finding solutions for problems – it's quite stressful doing it, but enjoyable at the same time! I like the challenge of making sure that all our drivers are where they need to be, even when customers' schedules change, or we have a particularly busy day.
If needed, we have several trusted subcontractors who meet our high standards, whom we can bring on board at busy times.
Q: What is your pet hate in business?
A: Unreliability and laziness! We must be 100 per cent reliable for our customers. When someone's on their way to pick up a customer, I need to know that both they and the vehicle are in top condition. You need to have that conscientiousness and passion to present yourself smartly and go the extra mile for the customer.
Q: What advice would you give to people just starting their careers?
A: Learn as much about what you're choosing to do as you can before you start, and then keep learning as you go on.
You need to have an attitude of wanting to learn. If you find somebody who has knowledge in an area you want to develop, you need to approach them, work closely with them, and try to learn as much as you can from them.
Q: Who in business do you 
most admire, and why?
A: There are many people I've known over the years, both in this industry and others – even our customers – who impress me with their work ethic. I always admire someone who is both successful and has a good attitude to others.
Q: What moments of your career so far stand out?
A: When you tell people you're a chauffeur, the first thing people ask is 'have you carried anyone famous?' But I couldn't possibly say – it's our job to show discretion at all times.
I'm proud of having grown the business from just me and a rented car, to being a well-established business with a fleet of eight vehicles and highly skilled staff.
Q: What sets your company apart from the competition?
A: Our service is second to none. We value feedback from customers as we strive continually to improve our service.
All our vehicles have water for refreshment, charging points, and newspapers on request.
We also wear suit and tie, open the door for our customers, and help them with their luggage. We can tailor your journey to meet your requirements.
All our vehicles are wiped down after each journey, there's hand-sanitiser in every vehicle, and our vehicles are deep cleaned by fogging on a regular basis.
Our ethos is to go the extra mile to make the customer's journey as pleasurable and comfortable as possible.
Q: What is the most difficult challenge your company has faced?
A: It's obviously Covid-19 – nobody planned for this at all. We've had to adapt as time's gone on.
The vehicles were kept to a high standard of cleanliness anyway, but now even more so. We also now test our drivers for Covid-19 on a regular basis. If our customers wish to use our complimentary water or newspapers, they must take them with them as they depart to minimise transmission, which they all are happy to do.
We've had to be creative too. Even if we only have one or two customers in the car, we give them the option of hiring our minibus to allow for more distancing.
Q: Have you got a five-year 
plan for the company?
A: I'd like to expand, but not too much. I want to stay small, friendly, local, and bespoke.
It's more about expanding our customer base and expanding the services that we offer; as I said, we're looking into an international service. And it might sound cheesy, but I want to keep looking after our customers!
Q: Why is it good to do business from Harrogate?
A: We're incredibly pleased to be based in Harrogate. We're in a very good position geographically – very well-placed for the surrounding towns and cities, which means we get customers from outside of Harrogate: Ripon, Pateley Bridge, York, Leeds.
Harrogate's not a bad place to live – we're very lucky!
Job title: Managing Director, Driver, General Dogsbody!
Company name: 
Harrogate Private Hire Cars Ltd.
Company address: 
19 Verity Walk, 
Harrogate HG2 9QE
Website address: 
www.hphc.co.uk
Company founded: 
February 2014