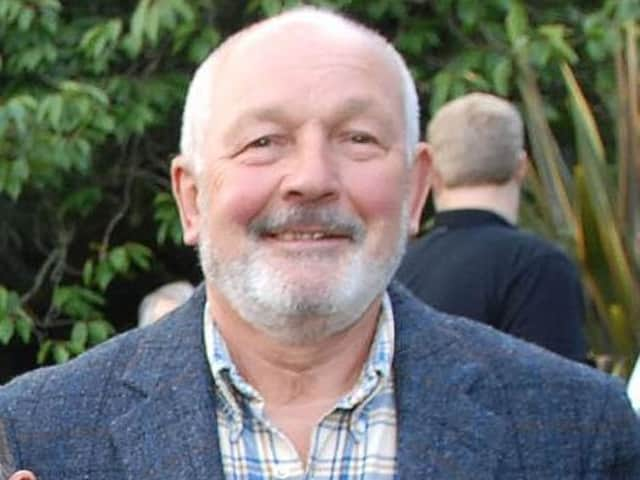 Steve Scarre, president of Harrogate District Chamber of Commerce which has given all of its members a six months payments holiday.
The president of Harrogate District Chamber of Commerce, Steve Scarre, said: "Where they can local businesses have reacted to this pandemic in a remarkable way and are really pulling out all the stops to help people and continue trading.
"It's great to see some local restaurants and food suppliers, including local bakeries, are offering a delivery service which is great.
"Many people have used their services in the past week or so."
Businesses in Harrogate including the Fat Badger, Fodder, Roosters and Baltzersen's have all introduced online delivery services, bringing food and drink to customers' door steps in a safe way.
But Mr Scarre said the consequences of months of disruption to normal life would still likely be challenging for all traders, hurting some more than others.
He said: "A prolonged lockdown will have a dire impact on some businesses.
"Those selling non-essential goods will suffer more than others such as the clothing, soft furnishings, jewellery, hairdressing and beauty salons, opticians, dentists, restaurants hotels, bed and breakfast establishments and many others.
"Property sales have fallen dramatically affecting estate agents and those solicitors who do the conveyancing work."
Mr Scarre's views echo a statement at the weekend from the British Chambers of Commerce, which feared for the survival of the high street.
And it forecast disaster for many shops in the nation's high streets if there was to be an extended shutdown.
The alarming prediction came despite a series of recent Government moves to help, including a reduction in business rates for some retail, hospitality and leisure businesses and cash grants for other eligible businesses.
But the Harrogate chamber president said support at a national level and local level offered hope.
Mr Scarre said: "The council has already contacted a lot if not all appropriate businesses to offer financial help in the form of grants as announced by the Government.
"The furlough payments of 80% are also helping businesses to keep their staff and quite a lot are paying the extra 20% to ensure that people can survive and be ready to return to work as soon as they safely can."
Harrogate Borough Council's support plan for businesses in the district includes:
Three months rent-free for its commercial tenants.
Apledge to pay its own suppliers as quickly as possible.
A relaxation of planning rules.
Support to businesses via its growth service.
As well as business rates, the other cost factor contributing to mounting job losses and shop closures in recent years has been high rents.
Harrogate chamber argues that everyone, including landlords, needs do everything they can to help businesses during the crisis, especially the small independents.
Mr Scarre said: "Harrogate depends on it's independent businesses and we must together work hard to help them as much as possible.
"Hopefully landlords are reacting positively to help their tenants. They must be suffering also I imagine, though.
"I believe that we will come out of this horrendous situation with a vengeance.
"But some businesses will suffer unfortunately more than others."
While online competition has been generally regarded as the enemy of high street retailers it may now, by necessity, be the saviour of some.
A new survey by analyst Retail Economics of 2,000 consumers reveals that two-thirds of shoppers say they have switched from buying in-store to shopping online as social distancing rules continue to tighten up.
In an effort to do its bit, the Harrogate chamber announced it is to give all of its members a six months payments holiday.