Delay in lifting Covid restrictions could be 'critical' for hospitality in Knaresborough
Thursday, 17th June 2021, 12:22 pm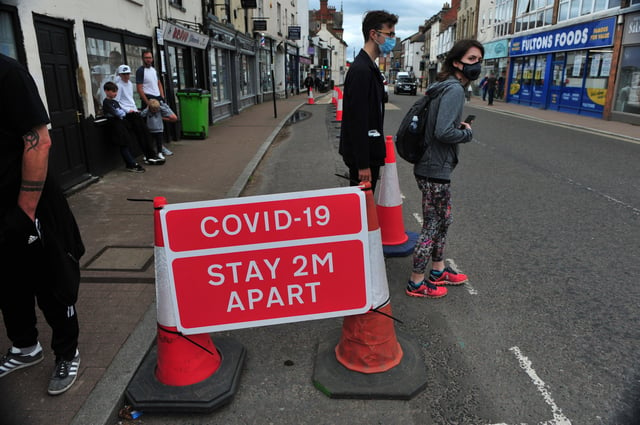 Social distancing measures on the High Street, Knaresborough. Picture Gerard Binks
Prime Minister Boris Johnson announced on Monday that the final stage of the roadmap out of lockdown was being put back from June 21 until at least July 19. Bill Taylor, secretary of Knaresborough Chamber of Commerce and lead for the BID project, said: "This delay is going to have a big impact - what's going to happen is that tourists are going to hold off for another month.
"We are doing reasonably well, which we always do in the sunny weather, but the capacity is still there and we won't reach it because of the restrictions. It is a critical time for a lot of businesses and most of them are in the hospitality trade. It is going to hit accommodation providers hard as well. We also still have bollards on the High Street, placed there by North Yorkshire County Council, and this will continue to cause an eyesore until the restrictions are fully lifted.
"The local economy is going to take a big hit. Spending habits have changed - people are looking online more and more and we must do something about that. We can't sit back thinking someone else will - we need to look at ways to drive footfall back into our town and to increase tourism.
"We also have devolution to consider - we are already suffering because of Covid, so we need to make sure that Knaresborough does not slip down the pecking order for investment. We have had great support from the Government during Covid and this has been managed very well by the local councils, but there's changes ahead.
"I would urge everyone to support any local initiatives that they can."
Mr Taylor urged everyone to get inoculated so that restrictions can be eased. He added: "I fully understand the reasons why the decision has been taken. I'm not a scientist and don't fully understand the data but it seems like we are struggling with this new variant. The key thing now is that we get as many people vaccinated as possible. The programme has been a great success so far. I would encourage people to come for their jabs so we can get back to normal."