Harrogate's Woodlands Drama Group unveil next show - and appeal for new members
Woodlands Drama Group will be presenting Charlotte Jones' Humble Boy at Harrogate Theatre Studio later this month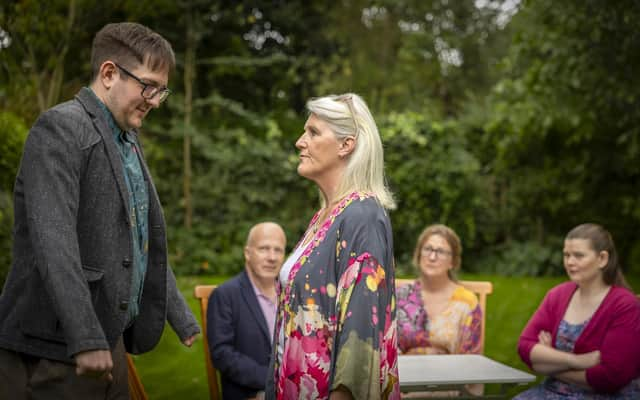 The play centres round 35-year-old Felix Humble, a Cambridge astrophysicist in search of a unified field theory.
He returns to his Middle England home and his demanding and difficult mother after the sudden death of his father.
He soon realises that his search for unity must include his own chaotic home life. Things finally reach a crescendo at a family garden dinner party.
From sublimely silly laugh-out-loud moments to poignant and heartfelt drama, spend a summer with the Humble family amongst the birds and the bees of their English country garden.
The play is directed by Mark Fuller.
Humble Boy – inspired by Hamlet – was the winner of the 2002 Critic's Circle Theatre Award.
Jones draws upon techniques reminiscent of Tom Stoppard by utilising multiple layers of what seem to be random events, people, movements, and philosophies.
Echoes of aware-winning playwright Alan Ayckbourn are also apparent in Jones' work. Set entirely outdoors in the Humbles' garden – Ayckbourn territory – we witness the Humbles' domestic struggle – definitely Ayckbourn – Felix's confrontation with his past, and his own mental difficulties in maintaining his familial and professional responsibilities.
Harrogate-based Woodlands has been entertaining audiences for more than 50 years.
With several amateur groups vying for talent in the area, casting can sometimes prove to be the biggest challenge.
"Woodlands takes pride in being incredibly down-to-earth, friendly and welcoming," said the group's chairman Vicki Day.
"But we are also comparatively small and have, on occasion, had to cancel a show simply because we've been unable to cast from within our own membership.
"That's why we're delighted to welcome three new actors who have helped to bring our next production Humble Boy, to life."
With Dane Wright playing awkward astrophysicist Felix Humble, Jill McVey as his overbearing mother and Tim Robinson desperately trying to march her down the matrimonial aisle, this modern play is bursting with comedy as well as new faces for Woodlands.
The group is always looking for new members and is keen to emphasise that there are numerous opportunities to get involved, with no experience necessary.
There are opportunities for directing, in set design and construction, sound and lighting, props and costumes – you name it.
Humble Boy is on from Thursday November 30 to Saturday Decemberr 2, daily at 7.30pm and a Saturday matinee at 2.30pm.
Tickets are available from Harrogate Theatre box office on 01423 502116.