Harrogate Operatic Players reveal the cast for the big summer production of Kipps!
The team from Harrogate Operatic Players behind Kipps! The New Half a Sixpence! reveal their first photo with the moment from the most famous of all the show's numbers – Flash! Bang! Wallop.
Monday, 10th February 2020, 1:05 pm
Updated
Monday, 10th February 2020, 1:15 pm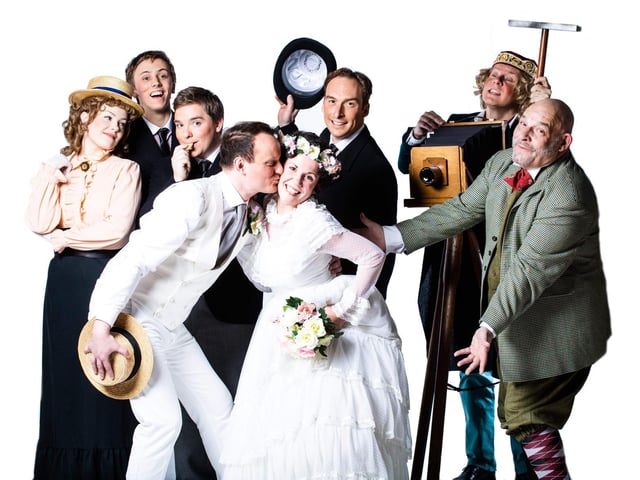 The cast of Kipps!
Harrogate Operatic Players, renowned for their recent hit shows such as Sister Act, Annie, Betty Blue Eyes, Top Hat' and My Fair Lady – are promising another hit show with a cast and crew led by local stars Nina Logue and Richard Hawley as Arthur Kipps and Ann Pornick.
The show is directed by Michael Kirkby and musical director is Jim Lunt.
The supporting cast includes Elisha Ainsley, Christine Littlewood, Daniel Stanford, Rob Hastings, Harry Howell, Craig Kirby and Phoebe Hartley.
Kipps! is a reinvented musical based on Half A Sixpence and returns to the H G Wells semi-autobiographical novel.
The adaptation, by the same team that created the stage adaptation of Mary Poppins with Disney was led by Julian Fellowes, creator of Downton Abbey, and Cameron Mackintosh with George Stiles and Anthony Drewe.
Kipps! returns the musical to its literary roots and Stiles and Drewe's new score harnesses the David Heneker classics.
For those not familiar with the story - Arthur Kipps is an orphan and an over-worked draper's assistant in Folkestone.
He is a charming but ordinary young man who dreams of a better and more fulfilling world.
When Kipps unexpectedly inherits a fortune that propels him into high society, it confuses everything he thought he knew about life.
His childhood companion and not-quite girlfriend, Ann Pornick, sees him wrestling with his new identity and watches with dismay how Arthur is being made over in a new image by the beautiful and classy Helen Walsingham.
She is always there with helpful hints on how Arthur could improve himself and make his life richer and more meaningful.
Both of these young women love Arthur – but which should he listen to?
Kipps! plays at the Harrogate Theatre from Wednesday May 12 to Saturday May 16. Evening performances at 7.30pm and a Saturday matinee at 2pm.